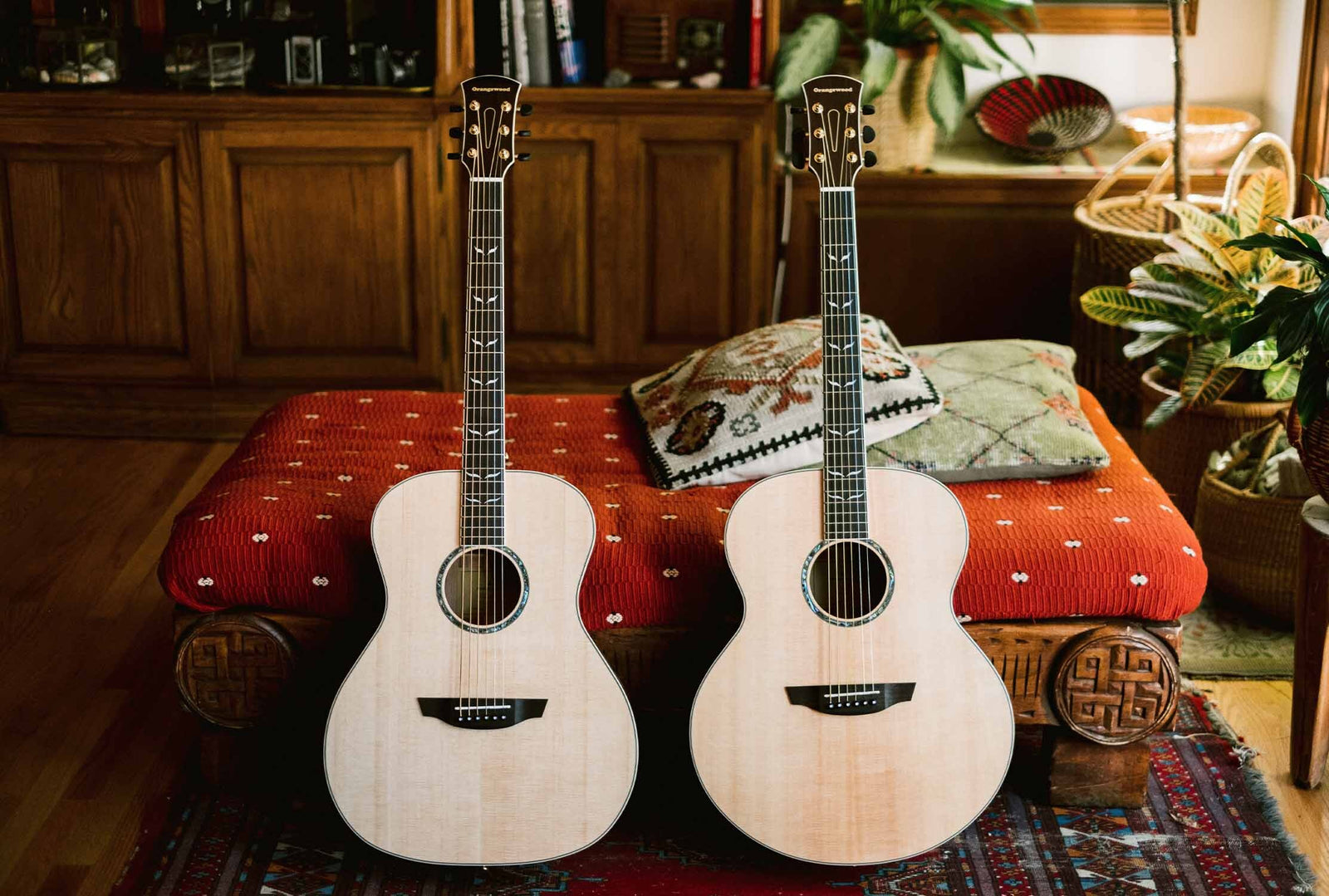 Though your first guitar may always hold a sentimental place in your heart, there comes a time in every guitarist's journey when their eyes start to wander.
If you're feeling held back by your beginner guitar, or you want to explore new tones and features, it might be time for an upgrade. To help guide, we're sharing 5 of our favorite intermediate guitars and why they might be a fit for you.
Unlike our best beginner guitars article, we won't spare the techs and specs this time — we trust you've learned a thing or two about guitars by now. So, without further ado, let's get into the nitty-gritty on intermediate acoustic options.
Echo
 Echo 
You may have started learning on a smaller guitar, whether that's a ¾-scale like our Oliver Jr. or a slender grand concert like our Brooklyn. While smaller guitars do hold merit for players at every level, you might want to size up for your next guitar. If a fuller sound is what you need, look no further than our intermediate dreadnought, Echo.
(Psst — need a refresher on guitar body shapes? We've got you covered).
Like most dreadnoughts, this guitar provides booming, resonant projection and a bold tone. What takes our Echo a step further than beginner dreadnoughts? We used player-favorite tonewoods — a solid Sitka spruce top wood and layered pau ferro back and sides — to add clarity and warmth to that impressively loud dreadnought sound.
The result? A gorgeous, balanced sound that's rarely achieved by guitars under $600.
Duke Live
 Duke Live 
Is even a dreadnought not loud enough for you? Meet our Duke Live — a jumbo guitar for heavy strummers. Our Duke boasts all the same tonewoods as our Echo, but with even more of a spacious, resonant sound thanks to its broad lower bout. This guitar is great for players who are looking to add even more volume to their sound.
Sage Mahogany Live
 Sage Mahogany Live 
Want to develop your soloist skill set? Then the Sage Mahogany Live is the guitar for you. This cutaway model is made with all solid mahogany wood, from top to back to sides. In spite of its darker appearance, the mahogany tonewood provides a surprisingly bright, nuanced sound. Meanwhile, its all solid wood construction enriches the balanced, woody tone.
When you're ready to really show off your riffs, plug this guitar into an amp and take advantage of its award-winning LR Baggs Anthem pickup.
Sierra
 Sierra 
Designed to meet the needs of studio artists and live performers, our Sierra is a vintage-inspired guitar that's been dressed up for the modern player. We've constructed our Sierra with premium tonewoods: a torrefied solid Sitka spruce top matched with solid pau ferro back and sides.
This guitar not only sounds amazing, but it's aesthetically stunning as well, with elegant gold hardware and Abalone details. We topped it off with a natural gloss finish, so it stands out under bright stage lights during performances.
Our Sierra is an excellent fit for aspiring professionals and versatile guitarists seeking their forever guitar.
Mason Nylon Cedar Live
 Mason Nylon Cedar 
Have you fallen in love with fingerpicking? It might be time to add a nylon string guitar, like our Mason Nylon, to your arsenal.
Nylon strings create an iconically gentle and warm sound, and their flexibility helps you unlock elaborate riffs and solos without straining your fingers. We've chosen the Savarez Cristal Corum High Tension 500CJ strings — loved for their flexibility, fast response, and crystal clear tones.
Our Mason Nylon is the only Orangewood guitar to feature a cedar top, making this model extra unique. We chose Cedar for its warm, round tone that enhances the gentle, ethereal sound created by nylon strings.
That said, if your solos need to stand out in a band then we recommend a louder steel string alternative, like our Mason Live.
Your New Guitar Awaits
Players seek out a second guitar for lots of reasons. Some want to upgrade their sound, cultivate a new skill set, or have a backup for shows and jam sessions. No matter your reason, we know buying another guitar is an investment you take seriously.
We hope this article has helped you narrow in on your new guitar, and are excited to see where it takes you! Be sure to check out all of our demo videos here.