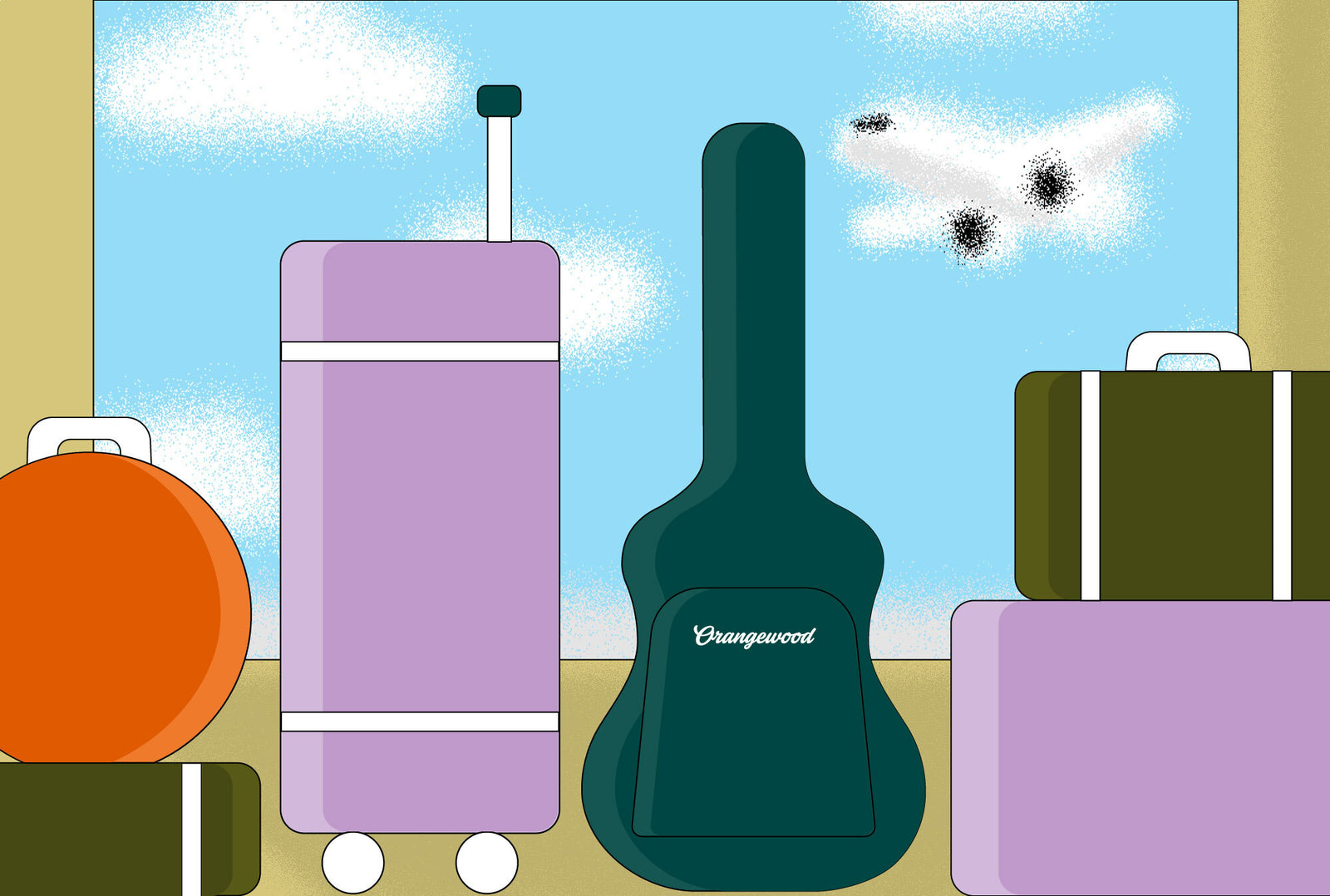 If you've ever heard of a travel guitar, you might think it's a guitar that's only good for traveling with. But travel guitars are underrated alternatives compared to iconic mainstays like dreadnoughts.
Join us as we take you on a tour of these unique and useful guitars. Along the way you'll learn what travel guitars are, how to choose one, and what Orangewood has to offer.
What is a Travel Guitar?
It's true: any guitar that you can travel with can be a travel guitar. However, the term "travel guitar" usually means "small guitar." But what's small about them? Small compared to what?
What's smaller about a travel guitar is its overall size compared to a full size guitar. Their bodies are narrower and shallower. Their necks are shorter. They weigh less.
By shrinking the size of a guitar, it becomes easier to store, carry, and play. It can also give the guitar a unique sound. 
💡 Pro Tip: If an Orangewood has "Jr." in its name, that means there's a full size version, too!
How to Choose a Travel Guitar?
Whether you follow a method or a muse, how you choose a travel guitar — or any guitar — is up to you! But we recommend keeping three things in mind: price, portability, and playability.
Price: Travel guitars are actual guitars, not toys. Can you afford to replace the guitar if it gets lost, stolen, or damaged?
Portability: Travel guitars are designed for players on the go. Is it small enough to fit in overhead compartments or to carry on your back for a long time? Does the guitar come with a gig bag, hard shell case, or something else to protect it during your travels?
Playability: Travel guitars have to sound good and be easy to play despite their small size. Does the guitar stay in tune? Is it easy to adjust the action? Does it need an amplifier and other equipment to use?
Our Recommendations: Best Travel Guitars in 2022
Dana Spruce (Mini Guitar) 
One of our most affordable travel guitars, our Dana Spruce (Mini Guitar) can go anywhere. You'll find it in campsites, in truck beds, and beside office desks. Strummers will enjoy its loud, bright, and deep tone. And its layered top, back, and sides mean you'll worry less about weather wherever you wander. 
Oliver Jr. Mahogany 
Heir to one of our best selling guitars, Oliver Jr. Mahogany is for players who tell their stories on the road.
This guitar sounds warm, bold, and brilliant thanks to a solid mahogany top. Layered mahogany back and sides support that mellow mahogany voicing beloved by guitarists.
Need to turn the volume up? Check out our Fishman Sonitone EQ equipped Oliver Jr. Mahogany Live.
Brooklyn Jr. Live 
Our Brooklyn Jr. Live only flies First Class. But even jet-setting guitarists think twice before leaving home with (or without) it. 
A rosette ringed in iridescent abalone? A solid Sitka spruce top shimmering under a crystalline natural gloss finish? An advanced Fishman Flex Plus-T EQ pickup system? Check, check, and check. This guitar is ready to take off when you want a refined, resonant, and rich sound. 
Want a bigger Brooklyn? Check out our full size Brooklyn Live.
Shop the rest of our travel guitar recommendations by checking out our mini guitar collection. 
No Place Like Home
Sometimes a small guitar is all you need. No tickets, reservations, or passport required. So don't let the term "travel guitar" turn you off; travel guitars can be perfect for any of life's adventures.
And when you're ready to go on your dream trip, we've got you covered. Read Airplane Mode: Traveling With Your Guitar to learn our best travel trips and tricks for guitarists!