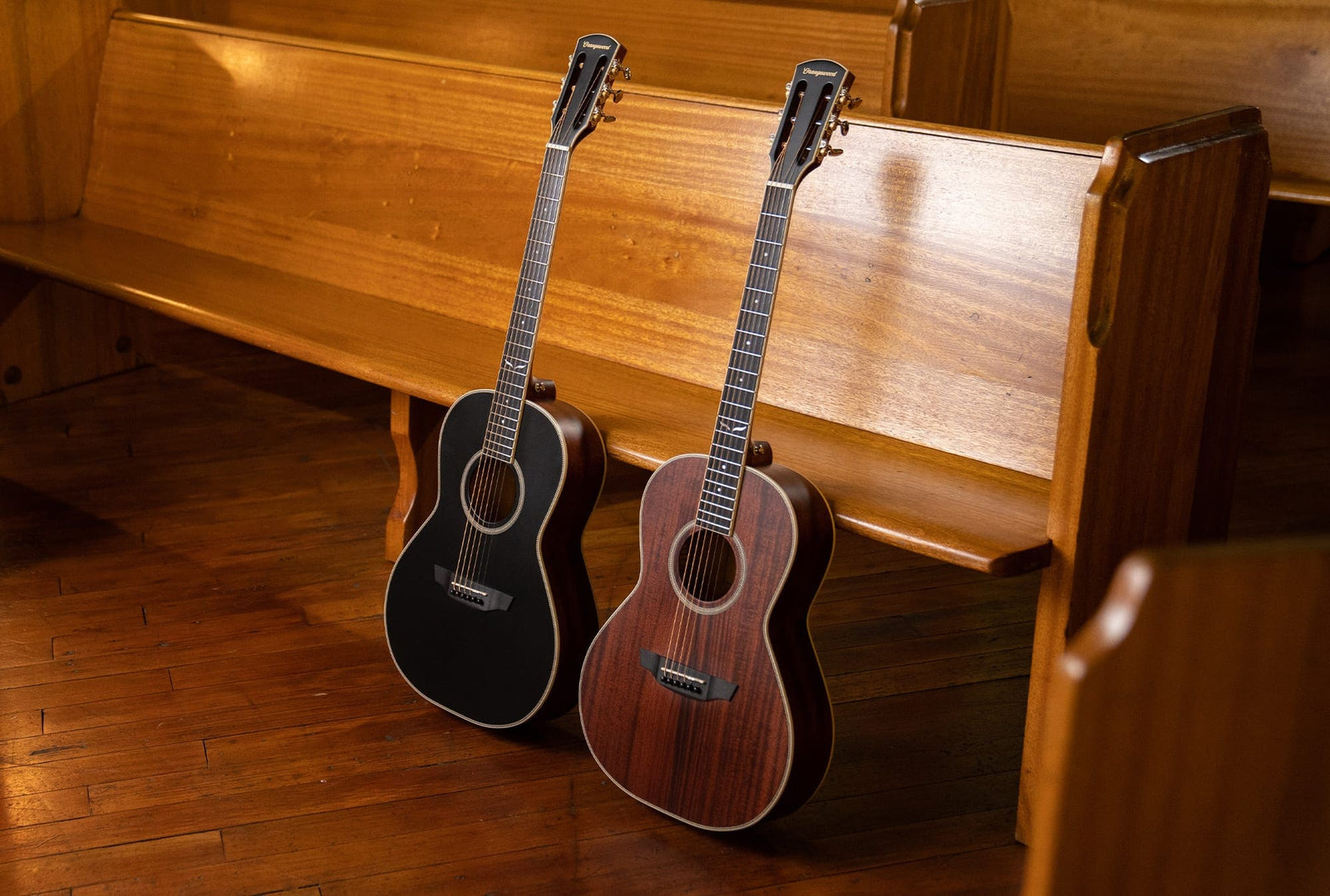 The family tree of the acoustic guitar has a trunk thick with the rings of history. Although our story began only a few rings ago, we continue to explore the past to create the future.
Between the rings of the late 1800s, we found a new inspiration in a charming kind of guitar some may call "old-fashioned." This guitar, perhaps best known for its curiously peanut-shaped body, has seen it all — from the reign of Queen Victoria, to the folk music revival, to the streaming music era of today. We're talking about the parlor guitar. 
Join us as we introduce you to some of the historic gems we've reimagined as the newest members of the Orangewood family tree.
What's a Parlor Guitar? 
A parlor guitar is a small acoustic guitar with a shallow, narrow body that looks a little like a peanut. Some are strung with nylon or gut strings. But most modern versions, like ours, are strung with steel strings. Classic features include slotted headstocks and necks that join the bodies at the 12th fret.
Parlor guitars are some of the smallest, lightest guitars that have full scale lengths. A parlor guitar's scale length helps to distinguish it from other small guitars like mini and travel guitars, which both have shorter scale lengths than parlor guitars.
But there aren't standard dimensions for parlor guitars. People use "parlor guitar" as a catch-all term for guitars with the characteristics we described above.
Who are Parlor Guitars Good For?  
Parlor guitars are especially suited to players who are looking for a vintage, nostalgic sound and a guitar that's both comfortable and easy to play. We'll get more into sound later, but their small size makes them great for players who want something in between the mini/jr. and grand concert body shapes.
Though they may be a touch too big for young guitarists, adults looking for a smaller guitar without compromising on playability or a full scale length will feel right at home with a parlor.
Peering into the Past 
One of the most intriguing parts of a parlor guitar is in the name itself: parlor. 
During the Victorian era, people whose houses had a special room called a parlor would use this room to host guests. If any of the hosts or guests could play an instrument or sing, they would entertain each other by performing music – usually the most popular songs and pieces of the time. 
One common instrument played in parlors was the guitar.  People didn't need large guitars that had a lot of volume for playing in such intimate spaces.  Once guitars took the stage, innovations like steel strings, larger bodies, and new bracing techniques were developed to achieve a bigger sound. As guitar technology progressed, those early small-bodied guitars came to be known as parlor guitars. 
These guitars weren't forgotten by time, though. The features that distinguished the parlor guitar contributed to a vintage, nostalgic tone that's now sought by musicians. Unlike an effect pedal or filter, the worn-in sound of the parlor is inherent in its voice and opens new expressions for players today.
For Ears of All Eras
The parlor guitar "sound" has connected with people across three centuries of music. And yet, their sound probably isn't the first thing to come to mind when you imagine an acoustic guitar. 
Parlor guitars have a bright sound, especially if they're strung with steel strings and topped with spruce. Nylon-strung parlors have a mellower, rounder sound — like a classical guitar. However, the body shape, bracing, and other factors give them a nice mid-range balance. This helps notes in the middle speak out, as well as notes in the treble and bass range of the guitar.
It's an intimate, honest, rootsy sound. The kind of sound that has distinguished artists across genres like blues, folk, and Americana.
It's what contemporary artist Field Medic taps into with music he calls "Travis pick-y, fingerstyle, strummy, folky." He relies on our debut parlor guitar, Florence, to achieve this sound.
Orangewood's Parlor Guitar Buyer's Guide 
Speaking of which, we released Florence in the summer of 2019 as part of our Overland Collection. We still love its sunburst finish, all solid spruce top, and affordable price. 
But when it came time to reimagine our Highland Collection for 2023, we set our sights on offering parlors that would be all-solid, studio quality tools for artists. We're pleased to introduce our two parlor guitars —  a pair known as Julian Black and Julian Mahogany.
Julian Black features a blacked-out, solid torrefied Sitka spruce top with solid mahogany back and sides.
 Julian Black 
Julian Mahogany sports a rich solid mahogany top with solid mahogany back and sides.
 Julian Mahogany 
Both guitars come equipped with open gear Grover tuners set in slotted headstocks for a nostalgic design mixed with easy, modern tunability. We also included our signature Highland Collection mother-of-pearl inlays for added elegance.
Both Julian Black Live and Julian Mahogany Live can be purchased with the award-winning LR Baggs Anthem installed. 
Last, but not least, both Julians come with custom-fitted, Orangewood-branded hard cases.
A Lasting Legacy
Ready to take a page from the history books? Check out our full parlor guitar collection here. 
Want to learn more about other guitar body shapes? Check out our articles on Alternative Guitars from Orangewood and A Guide to Acoustic Guitar Body Shapes.