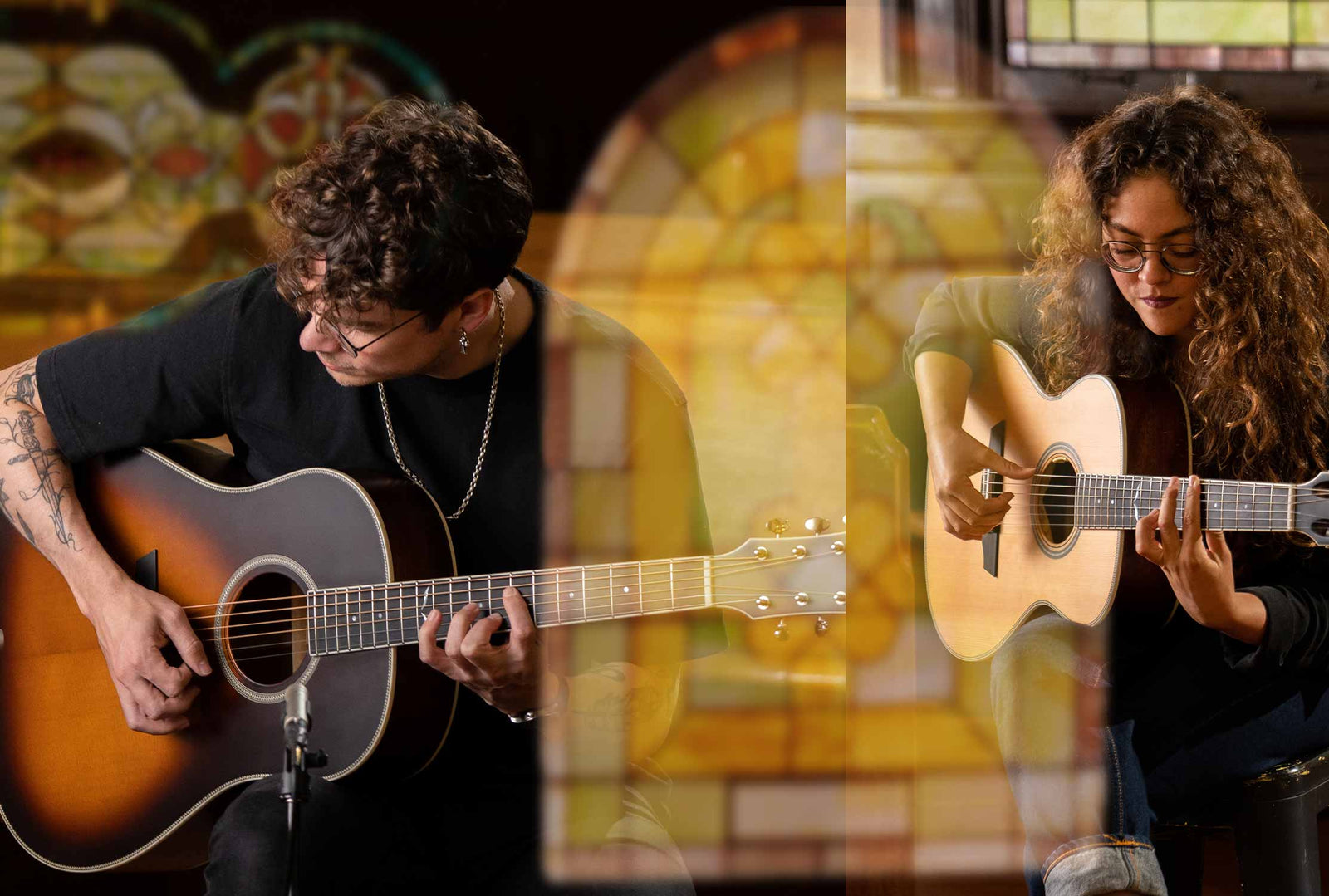 Meet our Highland Collection, reimagined. An homage to golden era acoustics, our 2023 lineup celebrates the rich history of acoustic guitars throughout the 20th century. As part of the collection makeover, we're dropping five new models unlike anything you've seen before from Orangewood. The nostalgic design includes unique body shapes, new slotted headstocks, and vintage-inspired finishes. Let's jump right into it and explore everything these new guitars have to offer.
Julian
Introducing Julian, our first all-solid wood parlor model. With an instantly recognizable "peanut" body, a parlor is a truly vintage guitar shape with a history dating back to the late 19th century. Reminiscent of the halcyon days, the name "parlor" alludes to the rooms these models were originally played in. Despite dipping in popularity in the later half of the 20th century, parlors are experiencing a renaissance thanks to a newfound appreciation for their lightweight shape, easy portability, and midrange tone. 
If you're a fan of our introductory parlor model, Florence, then Julian is your obvious upgrade for professional playability. With all-solid wood construction and an ebony fretboard, Julian captures a punchy yet delicate tone that's great for both fingerpicking and strumming. Parlors are especially well-suited for folk and bluegrass, but Julian is versatile enough to bring personality to any acoustic playing style. 
Julian is available in two unique top wood options, along with an optional LR Baggs Anthem pickup. 
Julian Black
 Julian Black 
While parlors are typically beloved for their travel-friendliness and campfire-aesthetics, Julian Black was first-and-foremost built for the stage. After all, nothing impresses quite like a black finish acoustic guitar. What's already shaping out to be one of our top artist models, Julian Black sports a solid torrefied spruce top with a sleek finish for a classic-meets-contemporary look, sound, and feel. 
Julian Mahogany
 Julian Mahogany 
If you prefer a more mellow-sounding model, Julian mahogany has you covered. Constructed with all solid mahogany top, back, and sides, this design adds more evenness and clarity to the otherwise brightness of a parlor. Plus, the natural satin finish shows off the intricacies of the natural wood grain.
Dolores
 Dolores 
This isn't your average dreadnought. Get the best of both worlds with Dolores, our first-ever slope shoulder dreadnought. This guitar delivers a big bodied tone and dynamic range without sacrificing any comfortability, so you'll get the sound of a dreadnought with the playing experience of a grand concert. 
Dolores delivers a great low and mid range with a slight edge off the high end for balanced projection and excellent resonance. Constructed with mahogany back and sides, an ebony fretboard, and a torrefied spruce top in a striking Vintage Sunburst finish, Dolores is a total workhorse with classic charm. 
Ava
Did a double take? You might recognize Ava, our mainstay grand concert Highland Collection guitar. Well, we just took the design up a whole notch. These fan-favorite guitars are now available with two limited-edition vintage-inspired makeovers.
Ava Vintage Sunburst 
Ava Vintage Sunburst 
First up: Ava Vintage Sunburst. Now sporting a classic sunburst finish and slotted headstock, Ava is sure to inspire nostalgia. Besides the retro look, Ava's updated headstock design provides more tonal clarity and articulation. Plus, it wouldn't be a Highland model without Grover open gear tuners, herringbone bindings and rosette, and a solid torrefied spruce top. You'll get a timeless look (and sound) of an old-school model with the modern construction you demand from an Orangewood guitar. 
Ava Nylon Cedar
Ava Nylon Cedar 
Lastly, this collection just wouldn't be complete without a classical guitar. 
Introducing Ava Nylon Cedar, Orangewood's first all solid nylon-string guitar. First, we swapped Ava's torrefied spruce top with an all solid cedar top. Our favorite top wood for classical guitars, Cedar evokes a full, lushness that's perfect for fingerpicking.
Then we added Savarez Cristal Corum High Tension 500CJ strings, chosen for their flexibility, fast response, and crystal clear tone. An elegant slotted headstock, solid mahogany back & sides, and comfortable grand concert body round out this versatile guitar design that's great for classical and contemporary players alike. 
Vintage Inspiration, Timeless Impression  
We couldn't be more pleased to present to you our newest era of the Highland Collection. Moving the needle between retro and reliable, the 2023 lineup suggests a new golden era in acoustic guitar construction is among us.  
Shop the full 2023 Highland Collection here. To hear these guitars in action, check out our demo series on YouTube.