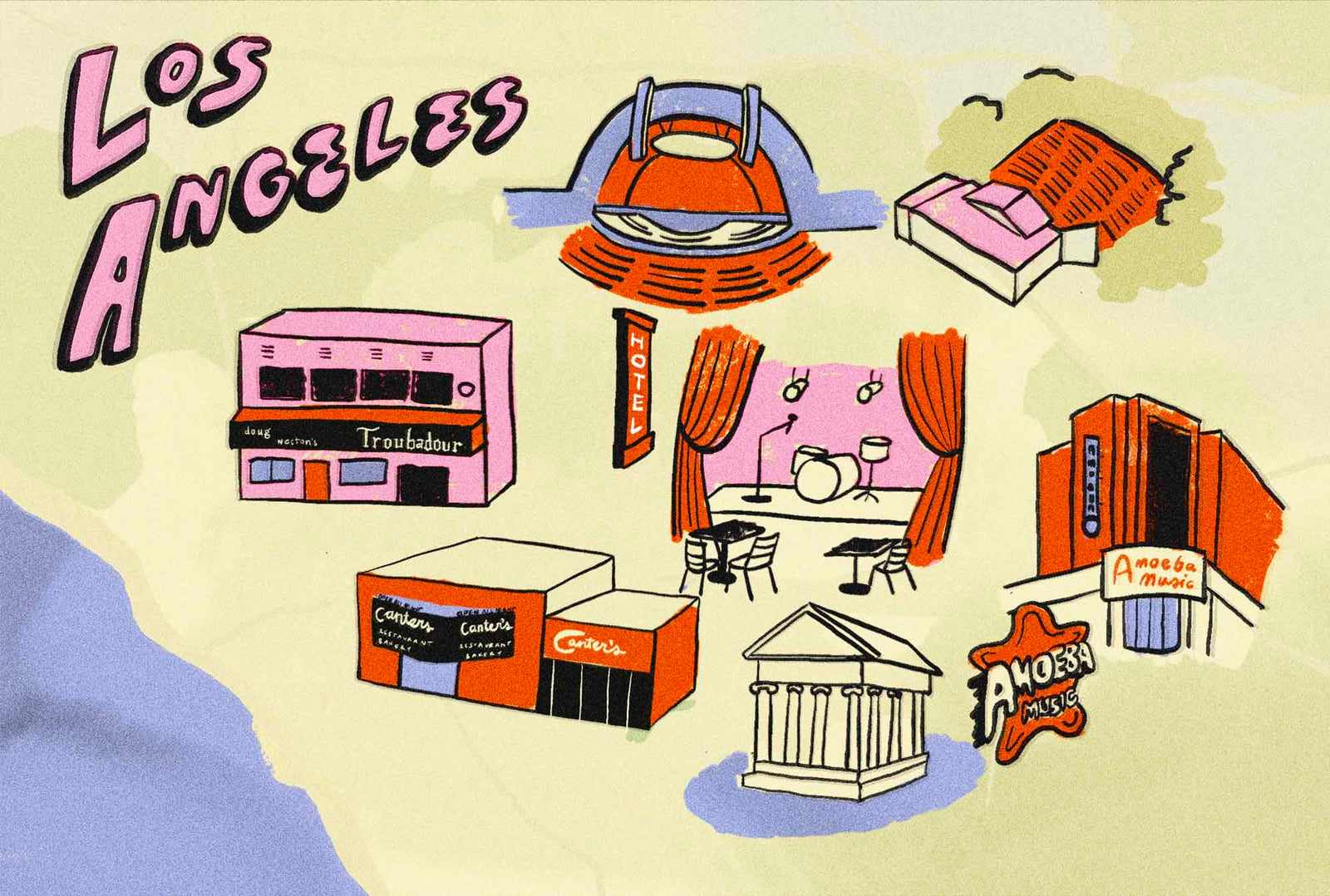 Headquartered in sunny Los Angeles, Orangewood is so lucky to call the City of Angels our hometown. Whether it's museum hopping, record shopping, or concert-going, there's always so much for us to do in Los Angeles. So today, we're letting you in on some of our favorite spots. 
There are a lot of travel guides out there, but we've curated this city guide specifically to help you soak in as much of the Los Angeles music scene as possible. So grab your travel guitar, and let's hit the road. From music venues to world-class record stores, these are the must-do music attractions in Los Angeles. 
Can't Miss Music Venues in Los Angeles
:
The Troubadour
This westside institution is bursting with history. A hotspot for folk music in the 1960s, the Troubadour became the place for rock legends to start their career. The venue is widely respected for introducing countless legends, including Joni Mitchell, James Taylor, The Byrds, and Van Morrison. Now, the Troubadour is known for their eclectic lineup of contemporary talents, like Orville Peck and Joanna Newsom. Word for the wise: these shows always sell out fast, so act quick!
Hotel Cafe
The Hotel Cafe is our go-to for all things acoustic. With multiple events to choose from almost every night, this intimate Hollywood venue books the best emerging singer-songwriters in Los Angeles. The Cafe is known for hosting stripped-down performances of some of music's biggest names, including Adele, The Lumineers, Leon Bridges, Mumford & Sons, and many, many more. 
Hollywood Bowl
One of the most architecturally distinct venues in Los Angeles, the Hollywood Bowl is on every Angeleno's bucket list. All the legends have played it: Billie Holiday, The Beatles, Grateful Dead — you name it. To soak in all the music history (before hearing some for yourself), check out the Hollywood Bowl Museum before a show, located within the amphitheater grounds. 
The Greek Theater
Modeled after a classic Greek temple, the Griffith Park Theater is potentially the most beautiful spot to see a show in Los Angeles. Nestled high up above the treeline and under the stars, the Greek Theater is a magical open-air musical experience. Where else can you see a concert in the woods? 
Explore a Neighborhood Venue
There are so many spots hosting exciting new acts around town that our list can only scratch the surface. Almost every neighborhood in Los Angeles has a music venue, so go out and explore the town.
Looking for a particular show? You're guaranteed to find a venue that specializes in your favorite genre – no matter how niche. From jazz and punk to rock and cumbia, there's always a local show to catch. Some of our team's favorite spots for smaller indie venues include The Echo, The Fonda, El Rey Theatre, and The Mint.
Deep Dive Into Music History
Laurel Canyon 
Welcome to Laurel Canyon, the folk capital of the world. This mountainous region of Los Angeles inspired countless musicians and captured the attitude of the 1960s counterculture. Some of its famous neighbors include The Mamas & the Papas, The Doors, and Brian Wilson of The Beach Boys. It's also the inspiration behind iconic music like Joni Mitchell's Ladies of the Canyon and "Our House" by Crosby, Stills, Nash & Young.
Spend the day driving around the beautiful roads, hiking the trails, and exploring the natural beauty. There's an energy in Laurel Canyon that's truly unlike anywhere else. Who knows where inspiration could strike? 
Canter's Deli
This landmark old-school delicatessen is a piece of rock history. Since the 1950s, Canter's has been a nightly hangout for rock legends to fuel up before (or after) a big show. Along the walls, you'll find photos of Guns N' Roses, The Red Hot Chili Peppers, and more, enjoying their own pastrami sandwich. There's even an intimate lounge, The Kibitz Room, tucked in the back of the deli for musicians to perform.
Canter's is open 24 hours, so stop by anytime to get some comfort food and music history. Just don't forget the chocolate chip rugelach on your way out — it's the best in town.  
Hollywood Forever Cemetery
The Hollywood Forever Cemetery is the heartbeat of Hollywood. During the day, this massive cemetery pays honor to some of music's biggest names, including Judy Garland, members of The Ramones, and Chris Cornell.
At night, the cemetery comes alive with musical performances and movie screenings within the beautiful grounds. Located deep within the cemetery, The Masonic Lodge is a dreamy venue that offers concerts with a psychedelic twist. Perfect for intimate performances, we couldn't think of a better spot to see indie legends like Bon Iver, The Flaming Lips, and Death Cab for Cutie. 
Record Shopping, Instruments, and More 
Amoeba 
Record shoppers rejoice. Amoeba is the largest independent music store in the world, and stocks music from every genre imaginable. The selections change almost daily, so act fast and don't be afraid to get down and crate dig. Orangewood's expert advice? Amoeba often hosts free in-store concerts and surprise musical appearances, so don't forget to check their events calendar before heading over. 
Melrose Trading Post
This weekly flea market and art fair takes place every Sunday in the bustling Fairfax neighborhood of Los Angeles. You could easily spend the day pursuing the vintage racks looking for records and antique instruments. The market is also a great spot to catch local musicians and celebrities in their natural habitat. You never know what treasure you may find, or who you may see. 
Get Lost in the Stars
There's always something to see (or hear) in Los Angeles. If you're in town, don't forget to check out After Hours at Orangewood, our monthly concert series that takes place right in our Los Angeles HQ. Follow us on Instagram and TikTok to learn more.