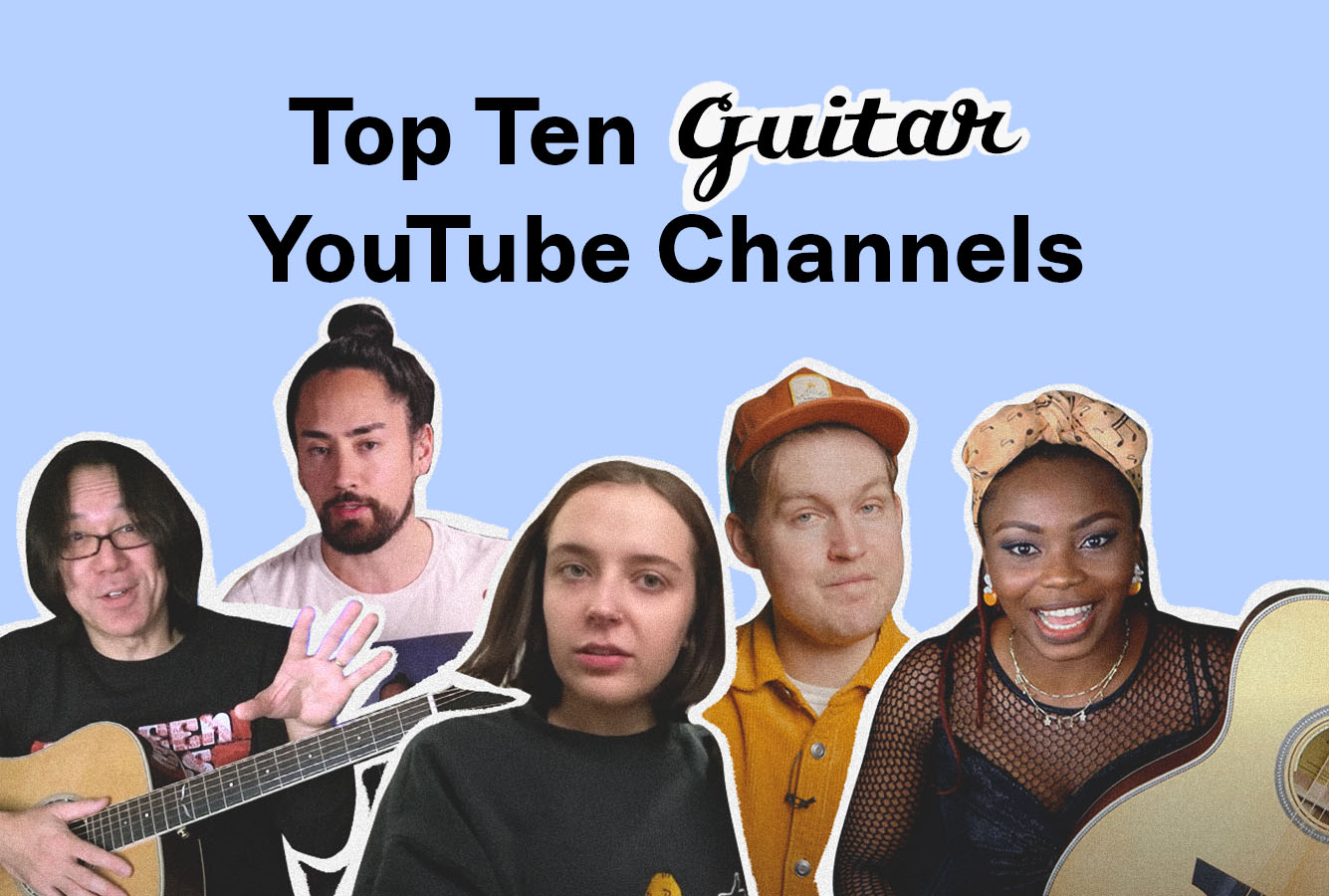 From song tutorials to in-depth demo reviews, YouTube is an endless source of inspiration and knowledge for guitarists. But with so much content available, it's hard to know where to start. That's where Orangewood comes in. 
Last year, we rounded up some of our favorite guitarists on the rise — you loved it so much that we're back with an all-new 2022 lineup. Here are the guitar channels you absolutely can't miss this year. 
Tomo Fujita
Class is officially in session! Gear up with the legend himself, Tomo Fujita. The revered Berklee College of Music professor is responsible for teaching some of the biggest names in music, including John Mayer.
While traditionally an electric player, Tomo's funk and blues approach to the acoustic guitar is sure to inspire and challenge your own playing. Throw him a follow, and get ready to be schooled by some Tomo Guitar Wisdom.
Helen Ibe
There's the technical approach to the guitar, and then there's the soulful; Helen Ibe, a Lagos-based guitarist and songwriter, happens to be a master at both styles. In just a few years, she's built a loyal following of fans who turn to her videos for uplifting and versatile guitar content.
From performing impassioned covers to offering fresh tips to better your daily practice, Helen will leave you energized by the endless possibilities of your 6-string.
twooba
Welcome to twooba nation. Whether she's doing a guitar unboxing, showing off her songwriting skills, or learning a new instrument (drums, anyone?), twooba does it all with infectious enthusiasm. This is a guitar channel run by a bona fide comedian. 

Want to deep dive into the world of twooba? Check out our unfiltered interview with the YouTuber to learn more about her inspirations and her music project, Hollow Bastion.
No Fun Haus
If you listen to Snail Mail, Mac DeMarco, or Phoebe Bridgers on repeat, you'll feel right at home with No Fun Haus. This YouTuber and singer-songwriter is one of the rising content creators in the indie space. His tips for D.I.Y. guitarists, from alternate tuning to achieving that elusive vintage-inspired tone, make him the go-to guy for elevating your bedroom tunes.
GuitarZero2Hero
Have a song stuck in your head and need the tabs ASAP? Dave, from GuitarZero2Hero has you covered. With friendly, easy-to-follow instructions and literally hundreds of song tutorials to choose from, we couldn't recommend this channel enough for all your songbook needs.
Dueto Dos Rosas
The Rosas sisters, Emily and Sheyla, are keeping the spirit of Mexican traditional folk music alive in San Marcos, California. Equipped with two nylon strings (one of which being a Mason Nylon Cedar Live) and some truly soulful voices, let Dueto Dos Rosas sweep you away into their beautifully shot music videos. 
Driftwood Guitars
Warning: this channel is not for the faint of heart. No guitar lover ever wants to see a guitar chopped in half, but Chris Alvarado is doing the work that needs to be done over at Driftwood Guitars. If you've ever needed a scrutinous review on an acoustic guitar – we're talking as in-depth as "in-depth" gets – Driftwood is the place to go.
Jeremy Sheppard
Also known as "the Guitar Hunter," Jeremy Sheppard is your resident expert in getting the most for your buck. He's an acoustic guitar specialist and his channel includes some amazing breakdowns of every variable you could imagine, from tonewood and torrefied spruce, to 12-strings and travelling blogs. There's no shortage of in-depth analysis and creative comparisons on his channel, so head on over for all things acoustic.   
SamuraiGuitarist
Don't let his even-keeled demeanor fool you; SamuraiGuitarist is making the guitar side of YouTube fun again. He's got you covered on every gadget, gimmick, and gizmo you can buy, from an attachment that changes your 6-string to a 12-string, to a guitar made of hockey sticks (in true Canadian fashion).
Sammy G has a deep catalogue of videos with some seriously helpful advice in addition to the fun ones, and his journey to 1 million subscribers is nearly over, so give him a follow!
Living Room Gear Demos
With Eirik Stordrange, it's all about style. As a videographer, he spares no expense in making the presentation of Living Room Gear Demos top-notch. If you're looking for some visually stunning inspirational content, all while checking out the best gear, from pedals for your board to acoustics for your collection, this is your one-stop-shop.
Orangewood 
You know we had to throw in a bonus channel! If you're serious about all things acoustic, then stop by Orangewood on YouTube. From a full lineup of demo videos to how-to tips & tricks, Orangewood is the official source for guitar aficionados.