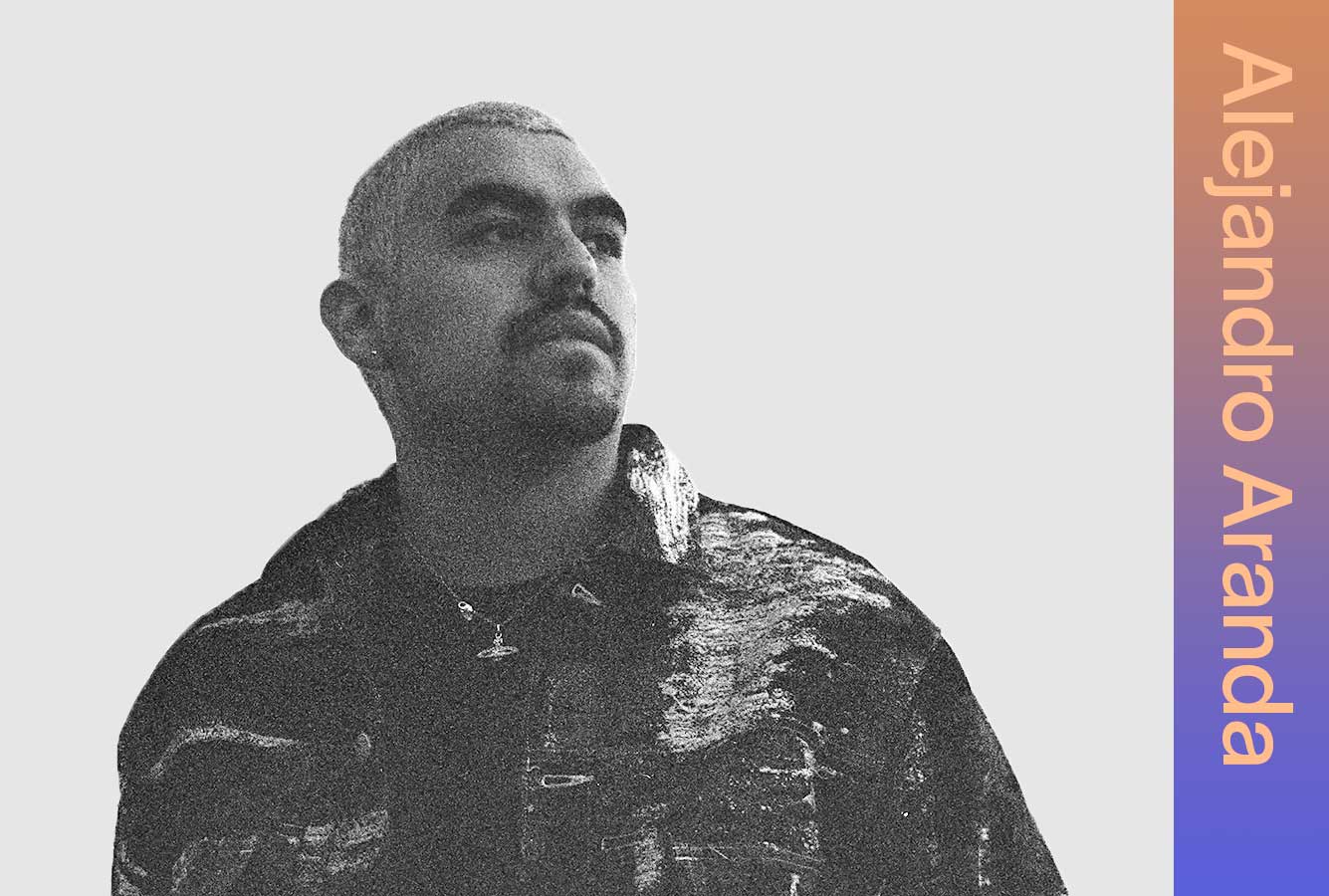 A single lamp lit the stage of the Los Angeles Roxy Theatre, casting an angelic glow across the back of a faceless performer. Enveloped in the shadows, that performer — Alejandro Aranda — delved straight into his opening track, aptly titled "The Darkness." 15 minutes of complex, lightning-quick guitar plucking swirled from one chord to the next, entrancing the audience. Speechless for the entirety of the song, its abrupt, staccato ending was followed by the crowd uproaring in applause. One voice cut through the thunder — "You're a genius!" As if to dismiss any hyperbole, Aranda laughed gently, moving on to his usual brief stage banter.


Known by many as "Scarypoolparty," Aranda is a Los Angeles based musician known for his breathtaking melodies and logic-defying fingerstyle guitar technique. Now, leaving the moniker behind, Alejandro Aranda is embracing his own name with his new single, "Pieces."
Aranda joined us to talk about the track, his new identity as an artist, and the journey he took to get here.
Congrats on the release of "Pieces." It's a fantastic song.
Thank you so much.
How are you feeling about it now that it's out in the world? 

I'm feeling great. It's been a long time coming. To be able to put a song out like that feels amazing.
Yeah, it's a really beautiful piece. Tell me about the backstory of the song and how it came to be

.

So, originally, the song started out as a hand warmup that I would do on a guitar, and then I just put a chorus to it. It was really quick when I wrote it.
It sounds really well thought out. It's surprising that it just came from this little moment. 
Definitely. 
When did you realize that you wanted to transform the exercise into a full song?
I don't know, I feel like the way that I write is spur of the moment. For that hand warmup, I got used to it so much that I just started adding lyrics to it. And then it became a song. It was really natural.
You're releasing this song as Alejandro Aranda, which is your actual name. Can you describe this new persona that you're taking on?
I wanted to bring more of myself into everything that I do, instead of hiding behind a name. Going by my real name is that first step.
Do you think that "Pieces" is more personal? Is it more true to your personality than some of the other music, or does it speak to you in a different way?
"Pieces" is a song that defines heartbreak and what it means to have your ideas become reality. I wanted to bend both of those into one thing. Now, as I'm going by my real name, "Pieces" is one of the songs that I worked on for so long that I really feel like it's a part of my identity.
You've been playing a few different Orangewood guitars a lot lately. Which one did you record "Pieces" with?
I recorded it on the dreadnought — the Berkeley

. I recorded "Pieces" on the Berkeley and I record everything else on it, too. It just became... It's 

the

 guitar.
So the Berkeley is your go-to for recording?
Yeah. It sounds great, especially plugged in. When I mic it up, it just sounds really, really full. I really love that a lot. Plus it's a dreadnought, so it has that real, dark, fullness to it.
I recorded "Pieces" on the Berkeley and I record everything else on it, too... It's the guitar.
You're a big fan of the dreadnought shape. It seems to be the type of guitar that you always gravitate towards. Is there something about that particular shape that makes it your number one choice for an acoustic?
I would say that it just sounds so big. Every time when I play on a dreadnought, it just feels full. When I started playing on the Berkeley, it really did mold my sound. I can do a lot of complex stuff and you can hear it.
You're a very gifted multi-instrumentalist — you originally started playing on keys. What drives you to create with an acoustic guitar over anything else?
It's really accessible. That's the biggest thing for me — if it's accessible, I can just play it and get the idea out. A lot of the songs that I write on an acoustic can translate to piano, or a synth, or MIDI, and I try to write with that in mind. Acoustic is generally the genesis of all my ideas.
In your playing there's a rhythmic, percussive element to it. You're playing so fast and there's so much going on, but it still has this underlying beat. Can you describe some of your influences for your playing style?
Nick Drake, but also Aphex Twin. From that to Ben Howard to... you know, the list can go on. Adding rhythm while playing a main lead was something I was really trying to accomplish, so I developed this way of playing where I use my index finger for percussion. I constantly try to have a rhythm so that I can add more in one take rather than needing to get a bunch of homies together in order to play the song. That's what I'm going for with my guitar playing.

 
You've come a long way since your 2019 American Idol runner-up run. What was that experience like for you? How cool was it to have Lionel Richie and Katy Perry giving you props all the way to the end?
At the moment, I felt really grateful, especially for them, like Lionel Richie and Katy Perry. They're amazing. Now, I still feel the same amount of respect that I did before. It's such a gratifying thing, especially being an artist, and coming out of American Idol.  

Sometimes it can be a thing where people don't really think of you as an artist, and they just think of you just playing covers and doing that stuff, which is fine. But for me, I really felt like I was an artist when they were telling me such nice things.
I saw this comment on your final performance. It said, "When you have the whole crowd singing the lyrics to your original song, that's how you know you've won." How does it feel for you when you hear the crowd singing the lyrics that you wrote?
Still, whenever I hear the lyrics being sung back, it takes me back to when I wrote it. And never in a million years would I think that someone would know the lyrics to my songs. So it just feels really, really amazing.
You've come a long way from busking in front of restaurants. What's your perspective on that, given how much you've evolved since then?
I feel like busking was my way of just releasing whatever emotion I had. The musical ability of playing out in the street and just trying stuff and really going for it was something that I try to mold everything that I do around. Busking really did shape me in the best way possible. It's such hard work to be a musician — to write and play music for a living. 
It always puts me right in the center of everything: my thoughts, how I make music, and how I do things, because I know where it came from. I know how hard it is to get from point A to point B to point C... to each path that I go down. Playing in the street really puts everything into perspective.
You just finished up your tour with Covet. What was it like being on the road with them?
The tour was amazing. Covet — Yvette and all the crew — they're so talented and amazing. The band Alto Palo opened up the set every night. It was a really dope energy. There were so many different styles, and I really appreciated that. We played about 29 shows and each night, I was learning something new. I went out with just an acoustic, but I was opening up for a math rock band. That's kind of crazy, but for me, I took it as a sign of growth. Every night it just grew and grew and grew, and the energy just became amazing.
There are rumors that I've heard that you have over 700 songs — not just drafts, but finished songs. That's impossible for most mere mortals like me. Can you tell me a little bit about your songwriting process, and how something like that's even possible for you?
I've been producing since 2018 and I made it a personal goal to write a song a day. I've always heard that all the great songwriters like Ed Sheeran, would write a song every day. Jack White, he finishes a song, and he just puts it out. I took that and tried to amplify it by finishing songs. Sometimes I wake up at 5 a.m. and I write two songs by 8 a.m. Then, those two songs turned into four songs.  

I'm writing like five or six songs a day. They're not all great — some are really terrible. But it's more like, as long as I can finish it, I can move on to the next thing. That's how I take music and how I write music. 

 

A lot of people can't really do things like that, but that's okay because that's their writing process. For me, I figured out a way to cultivate and put out creativity and be okay with it. Sometimes it's an acoustic song. Sometimes it's like an electronic song or a D'n'B song. It's just about getting everything down onto my DAW and finishing it.
So, you've got this huge backlog over 700 songs, and you chose "Pieces" to be the single. What makes "Pieces" stand out from the rest?
I always pick acoustic songs because that's my identity and I can play them anywhere. I can bring my guitar and I can play in front of, you know, a cafe. I can play in front of Covet's crowd. I can play in front of anyone with an acoustic. Aside from that, calling myself by my name... I really wanted to start from ground zero and pick songs that identify with how I play and how I present music. 

"Pieces" was one of the first songs because every time I get done playing it, I feel accomplished. It feels really great, because it's really hard for me to play and hard to sing, too. It became a challenge where I'm like, "Okay, I really have to practice and I really have to put in the time and effort to play it as best as I can."
How did you develop that lightning-fast style that you play on acoustic guitar?
I'm a big fan of playing piano, and piano really molded the way I played guitar. On piano, you're adding your rhythm and you're adding your melody in. I would listen to a lot of Philip Glass, a lot of Bach and Chopin. Hearing that, I would ask myself, "Man, how would that sound like an acoustic? Can I try to fit as much as I can into one song?" So, my style just developed over time, and it took a long time. 

I still have to practice and dig in deep to try to figure out if it works or not, because sometimes it doesn't. Not just playing fast, but what I'm trying to accomplish with each song. Especially when I play live, if I'm playing in front of somebody, I really want to give it my all. If you like it, you like it, if you don't, that's also okay.

I started playing like that for busking, too. Busking was one of those things where I wasn't comfortable with singing. After I would get off my job, I'd be playing out in the street, and I didn't want to just play chords. I really had to figure out for myself what it meant to play guitar for me.
How did you get the incredible finger speed that you have? Did you practice a lot to get your physicality up to that level?
Any guitar player can tell you it's just about starting really slow and playing as much as you can. I would practice super slow — I'm talking, like 30 BPM — and try to figure out how to hold each chord. It sounds really fast, but if I can't do it slow, it's not going to sound good. I would practice probably four to five hours a day. And then that turned into six hours, and so on.  

For any musician, if you're trying to get better, just practice. You've got to practice every day. And it doesn't stop. For me, at least, the sign of improvement for me is to see how slow and how precise I can hit each note.
Who are your biggest inspirations?
I take a lot of inspiration from hardcore music. From hardcore to metalcore and deathcore – any of that stuff – it takes a lot of hard work and precision. It's almost like a grit that I wanted from a young age. I would watch hate5six. That page puts the spotlight on so many hardcore bands every day, from everywhere. Rage Against the Machine. Code Orange. All that stuff. For one thing, I relate a lot to the lyrics. 

 

I've said it 1000 times, but Code Orange is one of my favorite bands. Not just because they're crazy, but because I've seen them when they were still called Code Orange Kids. I've seen the genesis of that band. That inspires me to be like, "Okay, I have to get up and I want to make music." They're putting so much effort into it and they love it, I want to have that same kind of love. 

Beyond that, I listen to everything from Nine Inch Nails to Ed Sheeran to John Mayer. All that stuff, to me, is amazing because it's all a process and everyone's process is different. But I feel like for a majority of my songwriting, I wanted to really work hard at it.
Sometimes I wake up at 5 a.m. and I write two songs by 8 a.m. ... I'm writing like five or six songs a day.
Do you have one piece of advice for someone looking to improve their songwriting, their musicianship, their guitar playing?
I would say, have fun and practice, that would be my motto. Have fun and practice, because if you put too much into one thing, and you have a different agenda than having fun, you're just going to have the most miserable time of your life. So, I would say have fun and practice as much as you can. There's inspiration — endless inspiration — everywhere.
Okay, so for this last segment, I've got a couple of rapid fire questions. I'm just going to ask you, and you're going to pick whichever one that speaks to you. 
Spruce or mahogany? 
Mahogany. 
Digital Art or fingerpainting? 
Digital Art. 
Beach or mountains?
Neither.
Neither? Switch up! Where are you going?
Inside. Apartment. Netflix. Studio.
Grind never stops. Hair dye or all natural? 
Hair dye. 
Fingerpicking or using a pick? 
Fingerpicking.
Is there anything else you'd like to say to the readers?
For one, thank you for having me. Also for anyone that's looking to pick up guitar or any kind of musical instrument, just to keep with it and try your hardest. Especially if you want to be a musician, it's going to take time. But I swear, if you practice your heart out, and you give it your all, you're going to do great.
This interview has been edited for length and clarity.