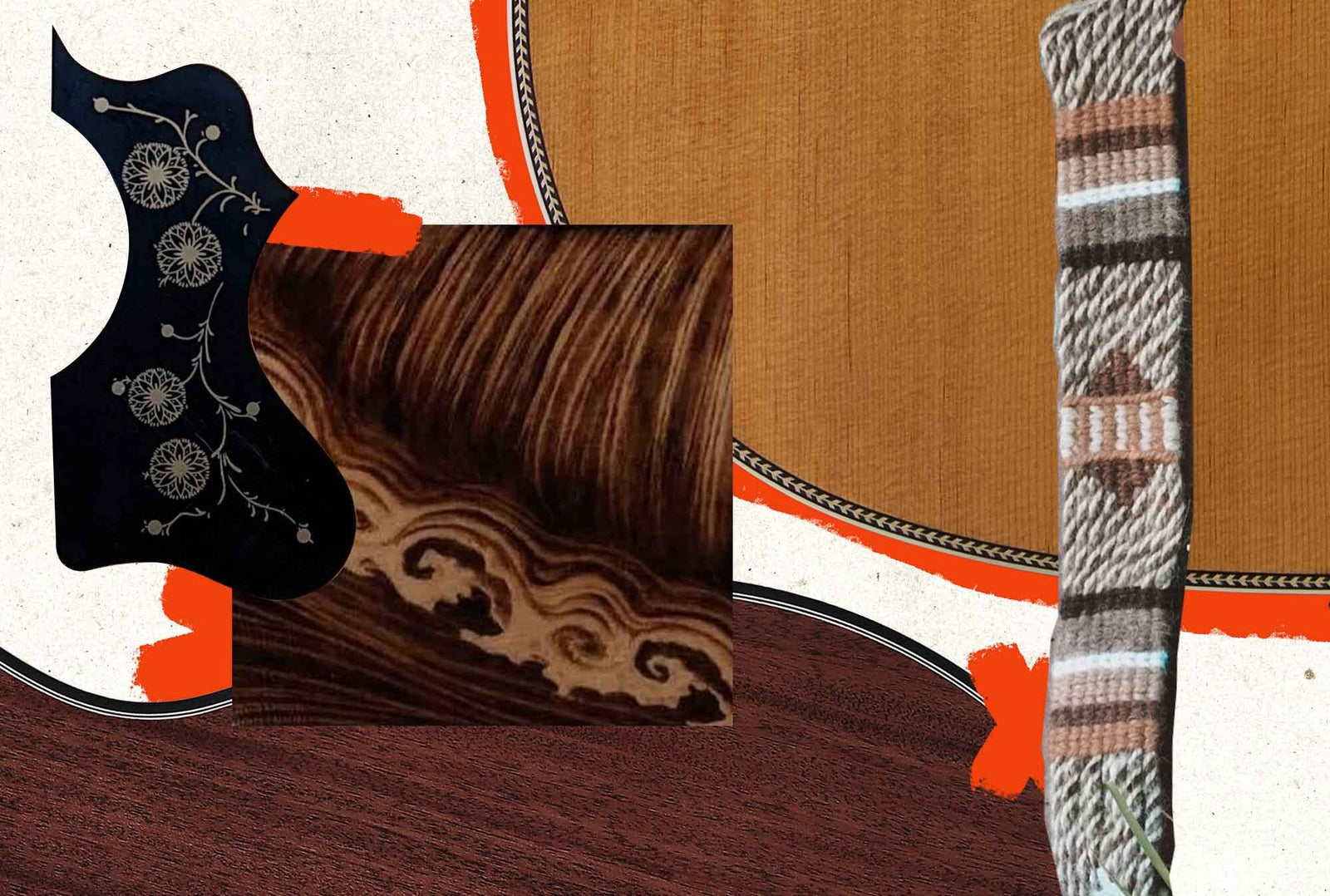 Playing guitar is a deeply personal experience. Not only do you have to find a guitar that's perfect for you, but you also have to make sure it's set up just the way you want it. After that, your acoustic becomes a blank canvas for creating music that's truly unique to you.
But why stop at customizing the sound? Lots of guitarists also enjoy decorating their guitar to match their personal style.
If you're curious about how you can personalize your guitar's look, keep reading! Today, we're taking inspiration from our community of players and sharing some ways you can decorate your guitar. Get ready to be inspired by these one-of-a-kind acoustics!
4 Ways to Customize your Acoustic
Guitar Straps
First on our list is a guitar strap. We love how easy it is to add personality and flair to your guitar with this functional accessory. Straps come in all shapes, sizes, and colors, so you can find (or make) one that helps you stand out from the crowd.

These are one of the best non-permanent ways to tailor your guitar's look. If you want to mix up your style, you can always swap these out with another one.
Pickguards
Want something a little more permanent? Custom pickguards are a fun way to accessorize your guitar, and can be easily purchased or made at home.
Most Orangewoods come with an optional pickguard. We let you decide if a pickguard fits your personal aesthetic. This also means that you can use this real estate on your guitar to add some more personal stylings.
Just note: this works best if your acoustic doesn't already have a pickguard on it. While pickguards can be removed, be sure to research and take great care to not damage your acoustic in the process.
Need help attaching a pickguard? Check out our FAQ for a step-by-step guide!
Stickers & Decals
Going beyond the pickguard, try decorating your entire guitar with fun stickers and decals. You can choose from a variety of designs or create your own. There are a variety of online stores that sell guitar stickers and decals, as well as a variety of materials and colors to choose from.
Others, like musician Lennon Stella, opt to simply add their favorite stickers for some added color.
As with attaching a pickguard, stickers can be tricky to remove. Be careful if you decide to peel them off as this can harm the finish on your guitar.
Collaborate with a Custom Guitar Artist
For the aesthetically adventurous players looking to radically change the appearance of their guitar, you might consider sending your guitar to an artist for a custom design job.
This artist from Sacred Fire Arts specializes in creating unique wood burned designs on acoustics. Check out how he used woodburning to personalize this Morgan Mahogany!
Don't try this one at home, of course! This artist has been practicing pyrography for years. Also note that elaborate customizations like this will have an effect on the voicing of your guitar.
It's Time to Get Crafty!
Acoustic guitars are naturally gorgeous, and there are many unique options available that stand out without any accessories. You don't need to change your guitar's look to make it your own. Still, we always love seeing eye-catching customizations from our friends.
Feeling inspired to decorate your acoustic? Be sure to share a picture and tag us on Instagram or on TikTok.