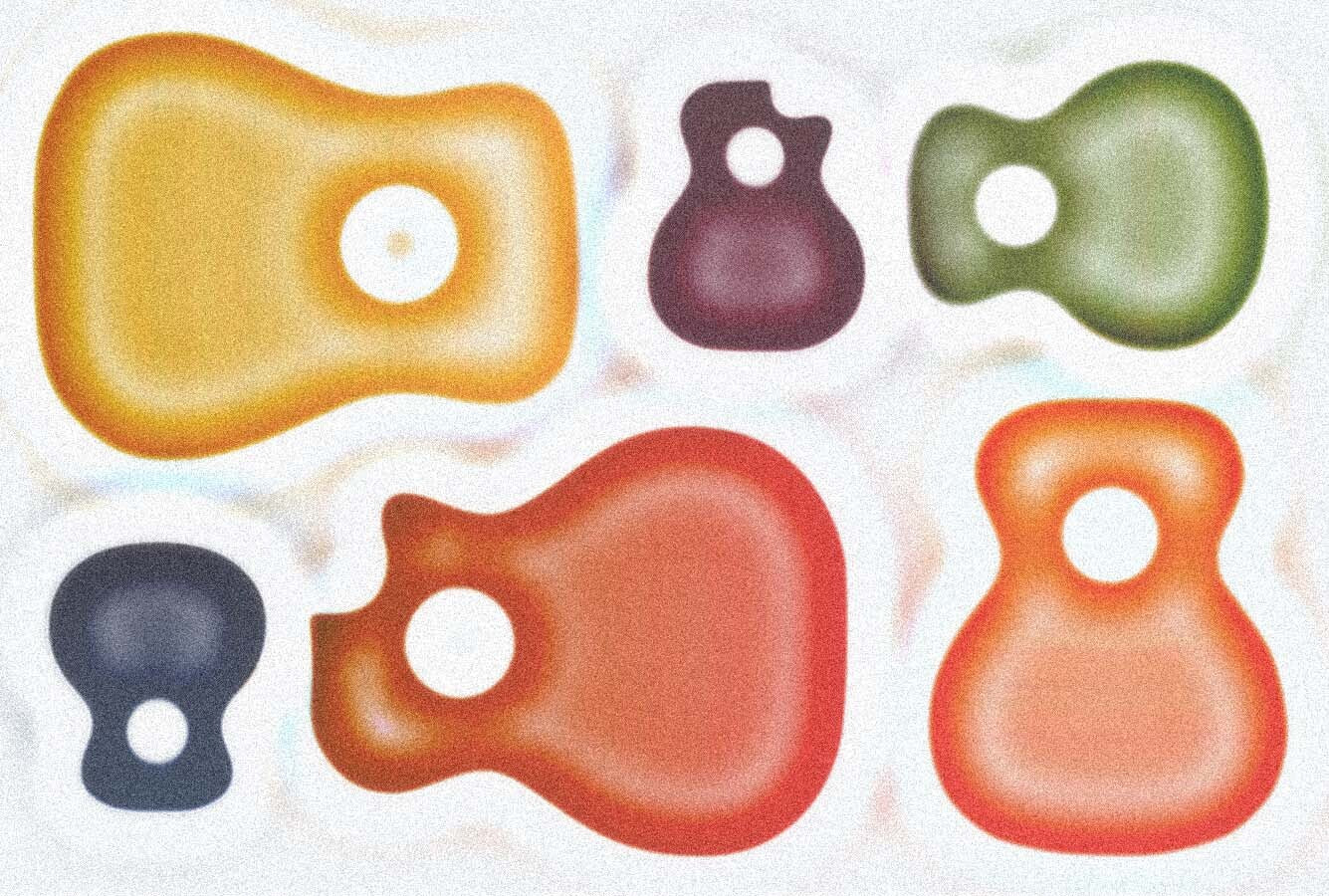 The beauty of guitar is that no two are exactly the same. When it comes to acoustics, you'll find a variety of shapes and sizes that can impact the sound and performance of the guitar. Whether you're searching for that classic acoustic guitar look, or you want something one-of-a-kind, Orangewood offers multiple body shapes to help you configure your dream sound.
In this guitar guide, we'll go over the three most common types of acoustic guitars that you'll find on the market today: the dreadnought, grand concert, and grand auditorium cutaway. We'll take a deep dive into the look, feel, and sound of these body shapes to narrow down which one best fits your playing style. 
Dreadnought 
Up first: The iconic dreadnought shape. When you close your eyes and picture an acoustic guitar, a dreadnought is likely what first comes to mind. As the largest acoustic body shape on today's list, the dreadnought body is designed to promote volume with great sustain. Many players gravitate towards the dreadnought for its bold sound, snappy midrange, and strong low end. 
This body shape is an excellent choice for emphatic strummers, singer-songwriters, and musicians playing with a full band. Especially common in rock, country, and bluegrass music, the dreadnought is a standard acoustic shape that's inspired decades of music history.
That said, a dreadnought isn't exactly known for its comfortability. If you're a beginner, youth player, or an adult with smaller hands, we'd recommend checking out a smaller body shape (more on that below) for their easier playability. 
Grand Concert
There's a lot to love about grand concert models. Similar in size to a classical guitar, the grand concert body shape features a tapered, narrow waist to deliver a well-balanced mid-range tone. In comparison to the bass-forward, boomier sound of a dreadnought, the grand concert is beloved for its intimate voice. This body shape is perfect for fingerstyle players who favor clarity and balance in their sound. 
When it comes to the playing experience, the grand concert's compact shape and lower string tension make for an extremely comfortable guitar, especially when sitting down. If you're looking for a model that you can practice on for hours, the grand concert is a great place to start. Another perk? The lightweight body is perfect for travel. 
Grand Auditorium Cutaway
Lastly: the versatile grand auditorium. This middle-size body shape strikes a great balance between dreadnought and grand concert acoustics. Overall, the grand auditorium is fairly similar to the concert shape, except for the lower bout which is closer in size to a dreadnought. This is a great middle ground for volume and playability. Featuring a well-balanced, clear tone, the grand auditorium is a versatile choice for both strummers and fingerstyle players. 
What makes our grand auditoriums extra unique is the cutaway (a scooped indentation) in the upper bout near the neck. Though you won't find a cutaway on every grand auditorium model, it's a common feature that you'll see on many — including Orangewood's grand auditorium guitars. The primary use of a cutaway is for better high fret access. If you're a fingerstyle player looking to play higher up on the fretboard, a cutaway is an absolute must. 
Shop Grand Auditorium Cutaway Guitars
Choosing the Shape That's Right For You
While we think every guitar player should have at least one conventional model in their arsenal, there's so many other types of acoustics to try out — including a parlor, jumbo, and mini guitar. Want to learn more about these alternative models? Check out Orangewood's unique offerings in our specialty guitar guide.
Most importantly, find a guitar that speaks to you. Whether you're looking for the boldness of a dreadnought or the ultra-comfortability of a grand concert, your guitar should be whichever model makes you most excited to pick it up and play all day.