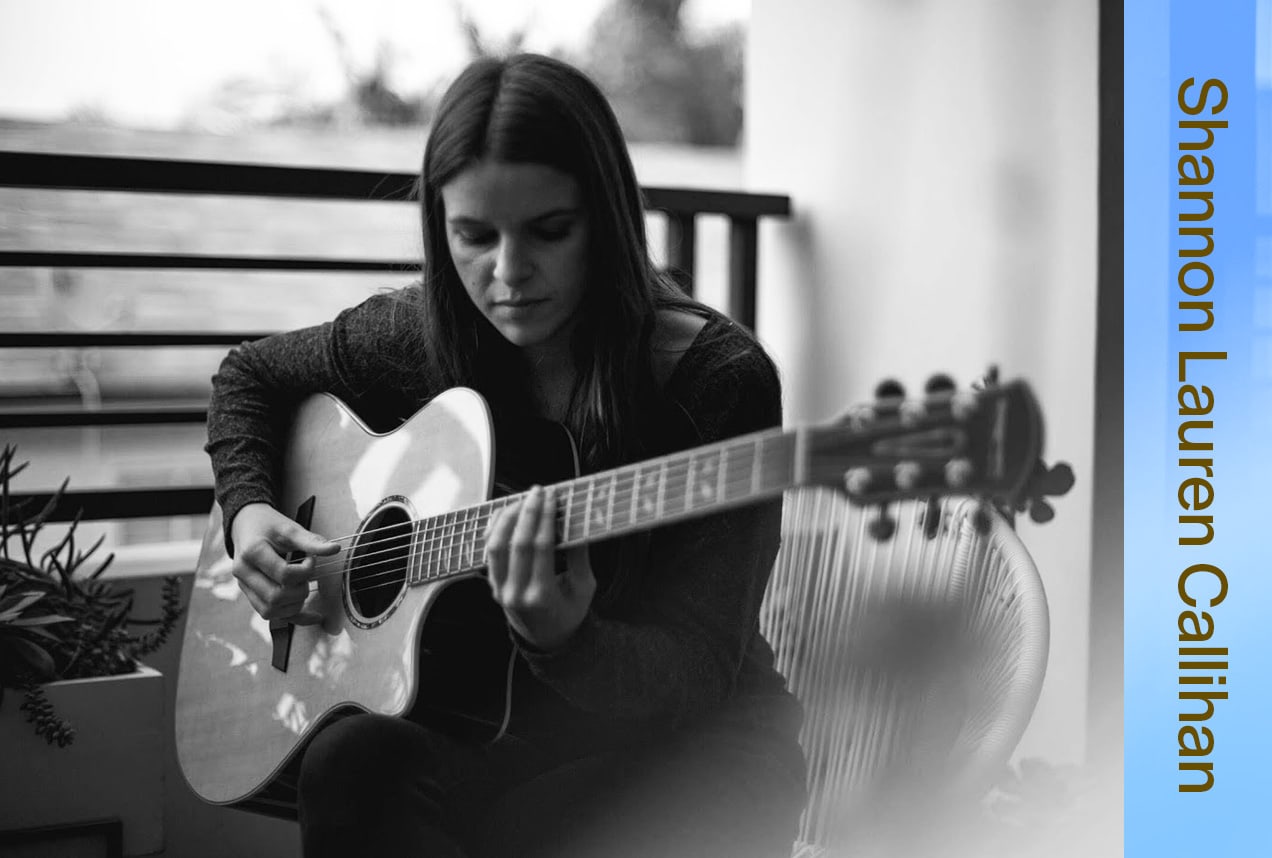 Shannon Lauren Callihan is a dedicated musician. If you could peer into her Nashville home, you'd find a wall lined with guitars, keyboards, and music gear. If you scroll down her social media pages, you'll be scrolling for a while before you find a picture of her without a guitar.

Her latest single, "got you" released on August 19th. It's a soulful slow jam interlaced with Callihan's R&B stylings and guitar riffs. We had the chance to catch up with her and talk about her journey as a musician, her inspirations, and her best advice for aspiring guitarists.
Hey Shannon! How you've been lately?
Good! I've been just working on new music, the next single. Back in May, I released a single called "Try" with a producer duo that's actually based in LA. I met them through social media, and they had just reached out, like "Would you be interested in working on a song together?" We ended up working together and we released that song back in May.

I'm just writing as much as I can. "got you" just released! After that, we're talking about possibly doing a smaller EP, a three song type deal. They call it a "three-er." I don't even know. I'm like, "Yeah, let's do a three-er." I've got a lot of irons in the fire right now, which is nice when it comes to music.
"got you" is a slow jam banger. Congratulations on the release. I'd love to hear a little bit more about what went into making this track.

It's funny — we released our first EP in 2021, One Sided. I actually started writing "got you" during the process of that EP. When you listen to it, it starts with Nate, our drummer, listening to a voice memo of "got you." We were like, "Let's be cool, let's foreshadow it."

Originally, when I started working on it, I sent the voice memo to Curt Henderson — our producer and guitarist. He just loved it. He was like, "We gotta do something with that. We have to finish that." That's when we started working on it.
He and I had kind of come up with a demo and this producer, Caleb Lee, was in town. We were really fond of his work. We took what we had to Caleb and ended up finishing the song together as a group in three or four sessions. It was a pretty quick process for that song. We're all super stoked with how it turned out; it's a little bit different compared to my previous releases, but I like it. It's a cool vibe.
Elaborate on that. How would you describe the difference between your previous stuff and this track?

We've always tracked with raw, real instrumentation, like on the EP for example. We'd never really used programmed drums or anything like that. I usually want to have real musicians play on these tracks, but a lot of the artists that I listen to use programmed instruments. This song was a good experiment for us to go for a different sound. That's the main difference with this song compared to our other stuff; we just found a different sound than we had previously recorded on other tracks.
You're based in Nashville, a place commonly regarded as a "last bastion" of guitar music. How has living in Nashville influenced your musical style?

You know, I don't really know if it does a lot. I mean, I've met so many people on social media, and I find a lot of inspiration all across the internet. Not to say there's not a ton of super talented artists in Nashville that are in the same genre as I am. Nashville is a very country-heavy town, but there's a really cool underground R&B scene, which is nice to be part of. That's how I met a lot of the guys that I work with, too: networking, going to shows, and meeting people.

I guess I do find inspiration from living in Nashville — just being surrounded by music all the time, every day, because I work on Broadway. It keeps me driven to create and stay on top of writing music and do what I love.
"got you" is infused with some amazing neo soul guitar riffs. Who are some of your biggest guitar inspirations — from local legends to guitar icons?
Let me see here… Spanky, he plays guitar with D'Angelo. Isaiah Sharkey. Curt Henderson, he plays in our band — he's my right hand man. Curt's always kind of behind my songs in some way, whether it's writing or playing or whatever. I actually discovered Curt through PickupJazz. I was a fan of his playing before. It's cool, we're like, best friends now. 
John Mayer, of course, is a big inspiration, I'll have to admit. It's a pretty typical answer. But you gotta think like, when I was growing up, that was his prime, right? He was the man. Pat Metheny and George Benson are some other guitarists that I grew up listening to. I could probably go on, on and on — oh, Landon Jordan, too.


That's a stacked lineup.
I could talk about this all day! I really could.
I've got all day!
Okay, when it comes to acoustic guitar, I got really into fingerstyle playing. That's when I discovered this YouTube channel called "Candyrat Records." That was back when YouTube was getting started. I was like, "Whoa, what is this world? This is amazing." I found players like Andy McKee, Antoine DuFour, Joe Robinson. I'm all across the board when it comes to the different guitar players and styles I like.
Speaking of, I know you play a lot of R&B on your electric, but you play a lot of acoustic guitar, too. How would you describe what you like to play on acoustic guitar specifically?

It's funny, when I'm playing, I love to explore alternate tunings. I'm all about finding a different tuning that sounds cool. My playing is definitely different when it comes to acoustic. When I play electric, I love to just jam over an R&B groove. But, on an acoustic I love fingerpicking, lots of harmonics, pretty sounding stuff like that.
It's cool how different guitars can inspire you to play different things.
I have so many guitars. I've literally run out of room.
Do you know the total number of guitars that you have?

Well, I could count for you. 3, 4, 5, 6, 7, 8… 13. Yeah, 15? Actually, no. Because I have a couple at my mom's too. I would say probably close to 20 guitars, which is a lot of guitars. I have two Orangewoods, too! I have the 

Hudson,

and the first guitar that I got from you guys was the 

Brooklyn

. I love that one. I keep it right in the living room and I play it all the time.
What kind of music does your Orangewood inspire you to play?

It's my go-to guitar if I want to songwrite. I keep it ready at all times for when an idea pops into my head or if I just want to watch TV and play — I do that a lot. I'll just put a show on and pick around. But yeah, I love it. I think I especially love the Brooklyn. It's just a great all-around guitar; easy to play, the neck feels really nice, sounds great. It even sounds really good being recorded with a mic.
Tell me about your guitar journey. Where did you start, and how did you end up here?

When I was four, my mom put me in piano lessons, that's how I got my foot in the door of the music world. If you can play piano, it makes learning other instruments a lot easier.

My best friend and I, we were always at church, we were in the worship band. That's when I really started playing guitar, but it was just "E," "G," your basic chords. Then, my mom bought me my dream guitar; things just started to take off. I started practicing a lot. But I was playing saxophone and some other extra curricular activities. I was only able to devote time to guitar in the summer.

I went to college, played oboe — I have a minor degree in Oboe Performance. It was a very strange journey. I finished school, moved to Nashville for a job, and I took that as an opportunity to hone my guitar skills for real. I really didn't get serious about it until, gosh, probably six years ago. I just practiced my ass off — not only guitar, but songwriting, too.

I'd always wanted to become an artist. I just didn't really know how to do that while also doing things by the book: going to school, getting a degree, getting a good job. Once I accomplished all those things, it opened me up to pursue my journey as an artist and as a guitarist.
"

The real people who've made it, they've been around a long time... It's a marathon, not a sprint.

"
That's a relatable story for plenty of guitarists, including myself. During that journey, what do you think is the best advice you've ever gotten as a guitarist?

It's kind of cheesy, but I think you should just go with your gut. You're going to be the most successful when you're doing what you want to do. You should be making music that you enjoy, music that you're proud of.  

When I moved to Nashville, I started networking and going to writers' rounds. I started making country-pop type songs. I like country pop, but it's not really "me." I wasn't having as much success with it, and I was overwhelmed. Nashville is such a country town, and I felt like I needed to fit in to find success. I put my R&B music aside and I didn't really do anything with it.

I hit a wall with that. I thought, "You know, what the hell, I'm going to do what I want to do." It wasn't until I started doing what I loved that I built up some momentum. I started seeing success. I think it's always important to do what you like, and success will follow if you believe in yourself. So cheesy… "Follow your dreams."
Truisms exist for a reason. They're easy to overlook, but there's profound meaning within them.

A lot of people move to a big city like Nashville and they think things are gonna happen overnight. It doesn't really work that way. The real people who've made it, they've been around a long time. They've kept with it. It's easy for people to give up when things don't happen instantly for them, but it's definitely a journey. It's a marathon, not a sprint.
What do you think is the worst song to play on guitar at a party?

At a party? Oh, gosh. "Wonderwall"? Or "Free Bird." "Smoke on the Water." Yeah, those are your typical guitar songs.
Have you ever been to a party where someone played one of those songs? 

Absolutely! Have you not?
No, I have. I just want to make sure that it's a universal experience, you know? 

I think it is, yeah. You're like, at the bonfire, some dude goes and picks up a guitar… you know what he's playing. You know what's happening.
Let's return to "got you." What do you want the listeners to know about the single?  

It's coming out! It's gonna be out there! I'm very excited, you know, about this new direction that we're going with music. I think it's one of the best things we've done thus far. Definitely a different vibe than what we put out before, so I'm excited and nervous. There's always a nervous excitement when we go to release a song — we just hope that people love it like we do.
What's the situation that you imagine (or hope) people will put on "got you" to accompany? 

My hope for the song is that someone will hear it and — as cheesy as it sounds — fall in love to it. It could be their song — you know how couples always have their  song? When you listen to music, it takes you back to memories, that's why we listen. You can hear a song and immediately go back to another time in your life. At least I do anyway. I think it's a song that you could hear at someone's wedding or dancing in your kitchen at 2 a.m.
Be of the first to listen to "got you," the latest single by Shannon Lauren Callihan, down below.
This interview has been edited for length and clarity.