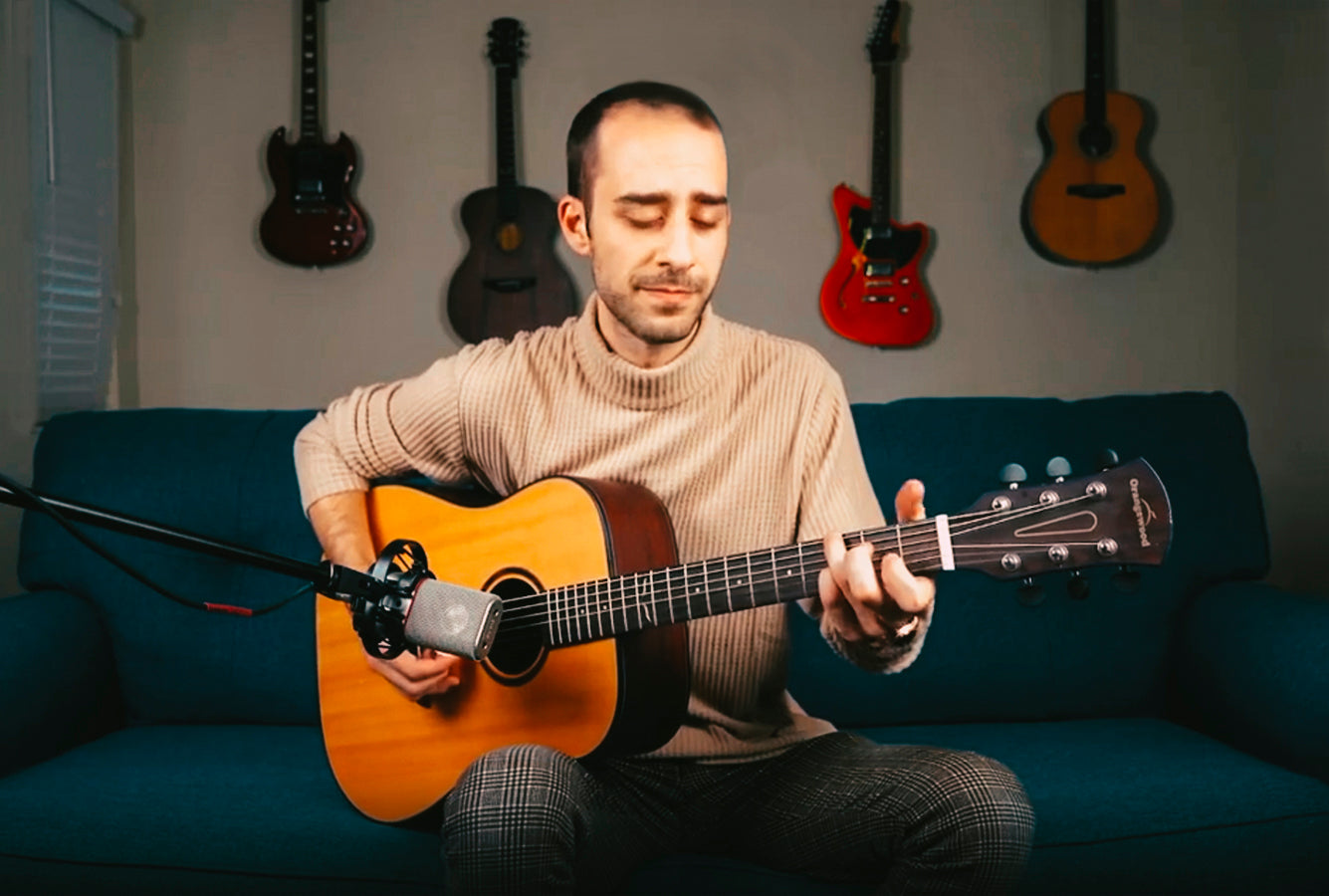 To launch our interview series, we called in a modern-day guitar hero, Nicholas Veinoglou! Based in Los Angeles, Nicholas is a graduate of the Berklee School of Music and a regular in the Pickup Jazz community. We caught with Nicholas while on tour with Bazzi to learn more about his guitar journey, how to go after your dreams, and his Donut Doctor alter ego.
Why did you start playing music? 
I started playing guitar around the age of 10! My parents had just got divorced and I took it really hard. The only time I would feel at peace was when I was playing guitar, so I spent countless hours locked in my room playing to Jimi Hendrix and Slash records. I remember having this crazy epiphany one day – realizing that the joy music was bringing me could help other people who might be feeling damaged; and felt an overwhelming responsibility to share that with the world. Even after 15 years, my love for the guitar still grows daily.
You are a well-known guitarist in the L.A. and Instagram guitar jam scene, but beyond that, you are on multiple high profile gigs with some incredible artists. Fill us in on the transition from guitar player to a professional touring musician. Was it difficult or a natural progression?
I always wanted to be a touring musician; there were really no distractions. Once I graduated college, I was going to continue playing with a band I had been with for 8 years (from high school to end of my time at Berklee) but woke up one morning with a crazy gut-feeling telling me to get my butt to LA. I literally got in a car with one of my friends, drove to LA with no apartment or real plan, but a huge dream.
Three weeks into arriving in Los Angeles, I landed the first audition I got with Jordan Fisher. We toured together for about 8 months straight right out of the gate. Throughout that time I met lots and lots of other musicians, music directors, and artists who I continue to work with today. I would say it was completely natural. As long as you have a strong vision/dream and work hard, you can make it happen!
Your "Love Languages" EP is a beautiful ode to your love of guitar, and it also shows your artistic vision beyond the instrument! Are you working on new original music?
Wow thank you! I actually wrote and recorded that record all in 10 days before moving across the country. I made it with my closest friends to remember our times together while we were all still living in the same place. I have not been working on as much as my own material lately – I'm not sure I know exactly what I want to say to the world just yet. I write a lot with other artists, but haven't felt compelled to share my own story just yet.
What was the most difficult part of balancing playing guitar for other artists and being an artist yourself?
I think the balance is actually very simple. Most of the artists I play with, I get my own artistic satisfaction out of. For example, writing guitar parts, creating sounds, MD'ing, etc. I get to make a lot of my own arrangements which really lets me get personal with other artists' records.
Across social platforms and in the guitar scene you are respected and admired by many, of course for your incredible playing, but a part of what makes you so memorable is your blue hair! Tell us, why the blue branding?
The blue hair happened as a product of me wanting a strong brand. I love blue – my guitar is blue, my eyes are blue, so I figured why not complete the pyramid?
Honestly, the main reason is that almost every guitarist in LA has the same appearance  – fade, clean-cut haircut, wearing all black. I just needed something to stand out so people would be able to instantly identify me amongst the crowd.
You have so many guitars, and we are proud to have Orangewood as a part of your collection. Which model do you have and why do you love it?
I am a proud father of an Orangewood Austen. I f*cking love that guitar. It plays as easy and fast as my electrics and can sing! It withstands aggressive strumming or flatpicking, and can even produce some crazy colorful tones for recording. I feel invincible playing that darn guitar!
You're currently on tour with the young talent Bazzi, who blew up this year and is now opening for major acts like Camila Cabello and Justin Timberlake. How have the tours been?
These tours have been an absolute DREAM. Literally! I wake up every morning in a constant state of awe. It's literally like a cheat code for life: I travel the world with people I love, playing music I love, and get paid to do it? Seriously…. What the heck.
We know that tours can be a wild ride! Can you dish on the craziest thing that's happened on tour?
(hahahaha)… Well, that's a real good question. There's a lot of stories I probably can't actually share, but one crazy memorable story was when the entire venue lost power mid-set, but the audience kept singing the entire song all the way through till the end (when the power finally came back on). It was really beautiful.
To all the guitar players out there who are dreaming of being in your position soon, what are 3 things you think they need in order to be successful on their mission?
Honestly, all you need is a dream. If you dream big enough and truly believe in yourself, you can literally make anything happen. I know a lot of people say that and there's no real path to achieving your dreams aside from working your butt off every day. Live-breathe-sweat your dreams. Realize that everything is a process, things take time; and timing is everything. Realize that you are good enough right now in this very moment and that you deserve to have your dreams come true.
Make a plan, set goals, and get working.
What is your ultimate dream? What is your purpose in music and in life?
I can honestly say that I'm living my ultimate dream every day of my life. I have music, family, friends, and I'm surrounded by love. My purpose in life right now is to inspire and encourage others to stay positive, keep motivated, and to work as hard as they can to achieve their dreams.
You are also known as the Donut Doctor. What's your favorite kind of donut?
My favorite donut is the classic Simpsons donut. Strawberry frosted with sprinkles. Nothing...NOTHING better in this life!
______
Follow Nicholas on Instagram @nicholasveinoglou