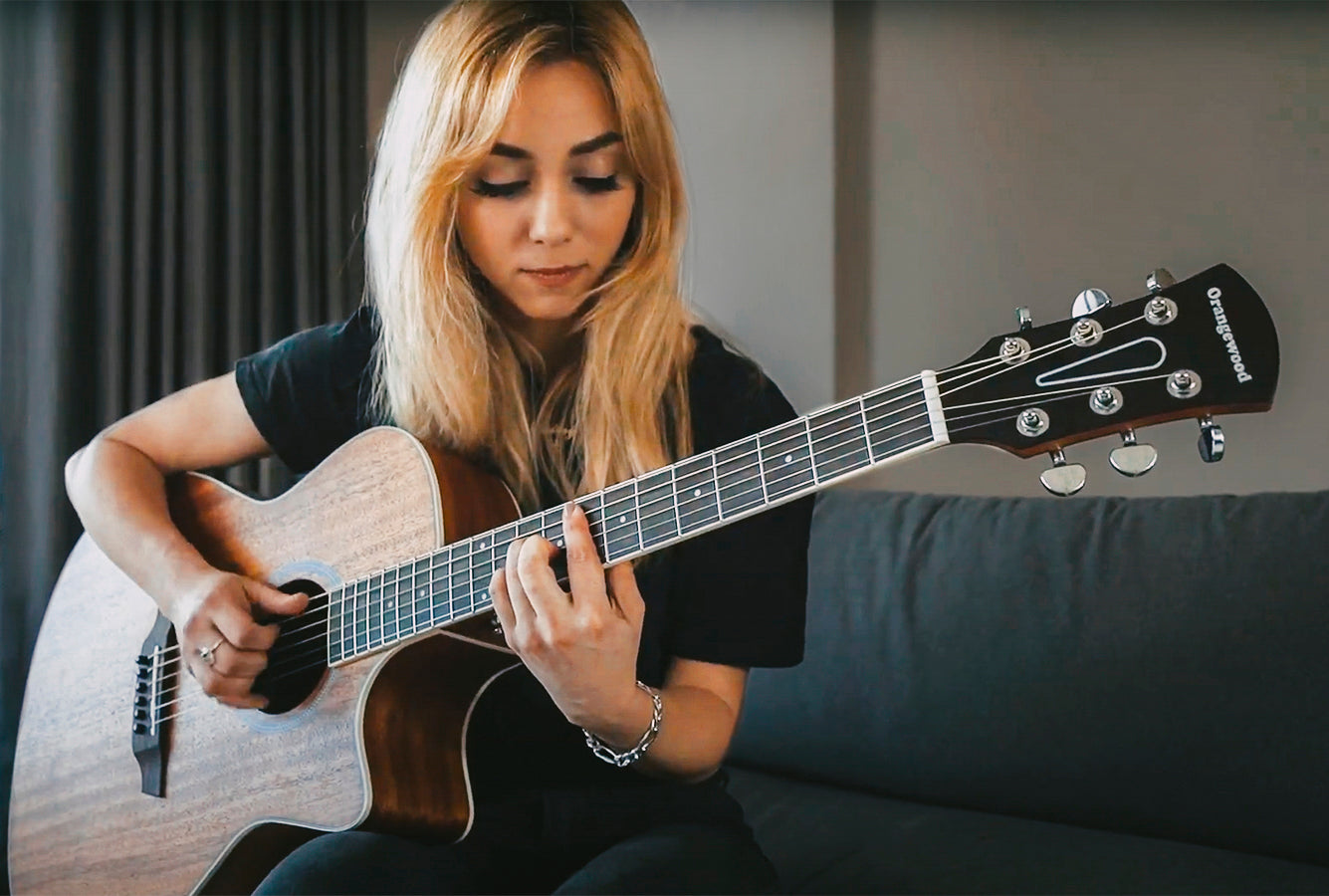 Meet Destiny Petrel. She's a rising talent who is quickly making a name for herself in Los Angeles and beyond. We were so excited to sit down and chat with her about all things guitar.  
So Destiny, you're a singer, songwriter, and guitar player. Which instrument did you start on? What's your musical story? 
I started playing piano early on which led to playing clarinet in band throughout grade school. Singing was something I'd do ever since I could remember. Growing up in a super creative and musical home, my parents and sisters would sing and play music all of the time. I picked up my Dad's guitar at about 12 years old. Guitar was something I really clung to. Being a super shy kid with awful anxiety, playing would help me through it and still does 'til this day.  My sisters, Jess, Bek and I started a band together soon after I started playing, and since then, I haven't really stopped.
You've played with other signed artists as a touring musician, but now you are releasing your own music. How has it been changing the narrative and making a name for yourself as an artist?
I'm just incredibly thankful I've been able to do what I'm most passionate about with so many incredible people. Right before the EP release I was terrified. Anxiety OVERLOAD. I love the creative process but definitely feel the most vulnerable when sharing. My family, friends and so many people that I hope to meet someday have been super supportive with the music so far. I can't help but feel grateful! Stoked for what's to come.
You recently released an EP titled Vol. 1! It's an incredible cover album showcasing your amazing voice and guitar playing. Beyond singing and playing guitar, what went into making this EP come to life?
I did! And aw, wow! Thank you for saying that!  We recorded the EP in just one week! I was in-between jobs at the time and before Vol. I came together, I was on a gig playing a festival with an artist in Utah. Right when I got back, I was missing my friends and asked a few if they wanted to come by to hang and just jam. After, I was feeling super inspired and so, I had ideas for some of my favorite songs, gave them a call and asked if they wanted to collaborate. It somehow came together between everyone's crazy schedules. Haha. Sooo thankful it did.
On this Vol. 1 album you have some collaborators that the Orangewood family is very familiar with. But why don't you tell readers who these collaborators are how it was working with them on this project?
YES! THE FAM! Nicholas Veinoglou and Ruben Wan are some of my closest friends. Collaborating felt like an everyday hang. Both of them are incredible musicians and creating / working together on this project felt so right. Being guitarists, working together usually never happens! That was the biggest reason why I wanted to create this EP and I'm so happy it worked out. I love them both so much.
We've been happy to have you as a part of the Orangewood family basically from the beginning! Which guitar do you have and why do you love it?
THANK YOU!  Love Orangewood.  It's so awesome to have seen it grow into what it has! I'm so excited! I tend to have your Oliver Cedar on hand wherever I go. There's something about the warm tone that brings me back to it.
With an impressive 88k followers on Instagram, you're well known and admired by many musicians around the world. How have you found community and collaboration from the Instagram guitar scene?
Social media has changed everything! It's the best way to stay connected with everyone.  I've met some amazing people through it and we're supportive of each other. That's what makes it so special, helpful and inspiring. I'm so incredibly thankful for the Insta community.
What are some of your current project and gigs? Anything coming up that you're really excited about and want to shout out?
I've been working on a few upcoming projects! I can't really get into details but one thing I'll mention is that I'll be collaborating with Guitar Center this month. There will definitely be more music to come, collaborations and touring too. So keep checking destinypetrel.net.  :)
To all of the people who look up to you as a guitar player, artist and as a voice in music, what is some advice you would give them on their journey in music?
Thank you for saying that.  The best advice I can give is to work hard, get really good at what it is that you do. Surround yourself with like-minded people but also people who make you want to be better. Get involved in your local music scene or try other ways to connect with people like through social media.  Find mentors. people you look up to. Don't be afraid to reach out and ask questions!I find a lot of my inspiration from my sisters and friends. We have hangs / jam sessions and talk about anything and everything.One of the hardest things for an artist, is comparison. Quit comparing yourself to others because no path is the same. Work hard, keep a great perspective by being grateful and enjoy every minute of your journey.  
What is your ultimate goal in music and in life?
Music for me is a way of life. It connects people and makes people feel. That's the reason why I'm so passionate about it 'cause of my compassion for others. Life is about relationships. I just want to be that bridge. The bridge for people to connect to each other. For me, I feel the connection with people when I express myself through my creativity in music. I think that's why I never want to leave the road.  There's so much love being shared there. I don't want to ever feel like I'm living this life alone. There's a sense of realness when someone says to you "I understand how you feel or I'm here for you." I want to be that person to others and I hope that comes across in everything I do in life.
Bonus Question: What is your favorite video game? And how do you keep gaming on tour?

Hahaha! You guys know me too well, omg. Right now, I'm obsessed with Hollow Knight. Ask my roommates aka my sisters, I play A LOT.  I bring the Nintendo Switch on the road. Most of our free time is on the bus and I believe we hit a record of 42 hrs of gameplay in Mario Kart on the last tour. Haha. Best of times.
______
Follow Destiny on Instagram @destinypetrel