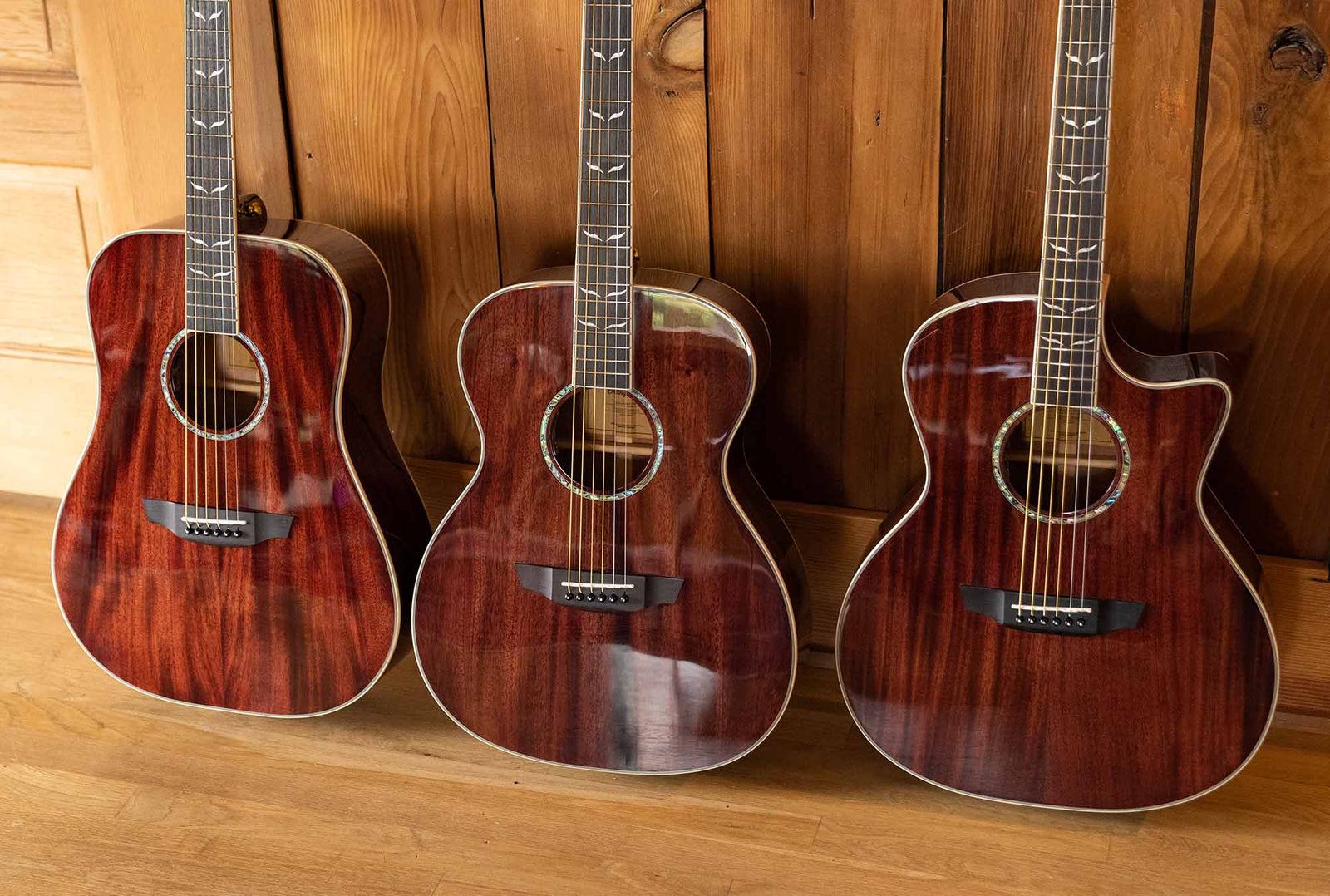 Inspired by cozy stays at California's great getaways, we gave our Melrose Collection a charming mahogany makeover to match. Three all-new models will feature solid mahogany tops, custom-voiced LR Baggs Bronze Element VTC pickups, and smooth natural gloss finishes.
Starting from the Top
In a first for our Melrose Collection, we chose solid mahogany tops for our new models. This tonewood continues to charm players and listeners with its mellow and smooth voice — a voice that sings with clarity and evenness across the acoustic guitar's full range.
We then chose layered sapele mahogany back and sides to back that voice with balanced, full-bodied projection. Finally, we chose three of our core acoustic guitar body shapes to give players this new sound in familiar forms: dreadnought, grand auditorium cutaway, and grand concert body shapes.
Tones Change Color, Too
In a first for Orangewood, we've collaborated with LR Baggs to electrify our new models with a new pickup system.
The result is the custom-voiced LR Baggs Bronze Element VTC. Compared to the Fishman Flex Plus-T EQ pickups on our Melrose Spruce models, the Bronze has a hot ("strong") output while staying warm, balanced, and transparent for professional sound. You have two controls — EQ and volume — to change your tone like the seasons.
Every Melrose Mahogany model comes pre-equipped with the custom-voiced LR Baggs pickup.
An Unforgettable Finish
The best getaways stay with you forever. In that spirit, we finished our new mahogany models in natural gloss to protect and show off the figured solid mahogany tops and layered sapele mahogany back and sides. We kept other luxe Melrose touches like iridescent abalone rosettes, acrylic wing inlays, and gold hardware. They're eye candy your ears can enjoy, too. 
Maybe you dream of wide open spaces where the sky's the limit, or maybe you rest in thoughts of woody hollows and tranquil cabins. We've got the soundscape no matter your landscape.