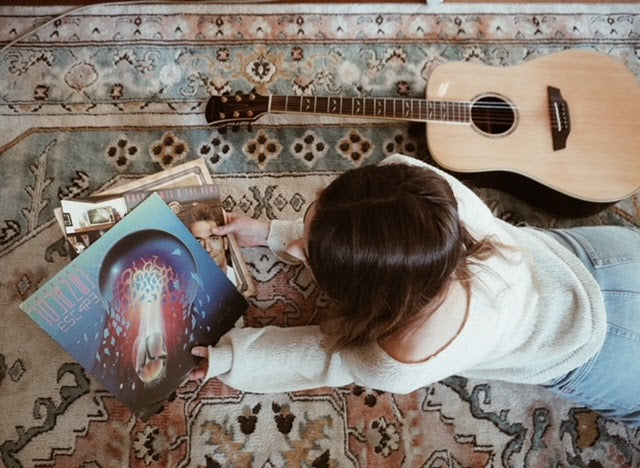 Acoustic covers are a great way to rework your favorite songs and to improve your guitar practice sessions (while having fun!). To get started, you can find great acoustic cover playlists on Spotify that are filled with cool gems. There seems to be an acoustic cover for almost every popular song out there. 
One of the things I love the most about acoustic covers is how different a song can sound based on who's covering it. For example, the first time I heard Kina Grannis' cover of "Can't Help Falling In Love," I was obsessed. I loved how she took a classic '60s Elvis song and made it so emotional. The great thing about acoustic covers is that sometimes simple is better, so no matter your level on guitar, you can make a gorgeous song.
In this blog, I'll cover how you can make a cover (haha, dad joke)! So pick a song you've been wanting to learn and let's jump into it.
5 Easy Steps To Playing an Acoustic Cover
Find Your Inspiration
To choose what song to cover, the world is truly your oyster. I personally love finding '70s songs or new pop songs that I think would sound cool. When choosing what to cover, there are a few things to take into consideration. 
First, consider how the song will sound acoustically.  Sometimes songs that have too many essential parts, are too repetitive, or overly-produced might not make great covers. Try out a few songs and see which inspires you the most. For some song inspiration, check out Orangewood's Acoustic Covers playlist:
Then consider whether you want to sing and if you like the key of the song. Certain songs sound better in some keys than others, so before you start practicing to play, figure out if you like the original key, or if you want to adjust it. 
Learn the Chords
Now the fun part! Once you've chosen your song, the next step is to learn it. Since this is your own version of the song, there are no rules for what chords you have to use. If you want to change the chords slightly, change the order or length of the song, make a mashup, or omit certain things, that's completely up to you. If the song you're learning has a long solo or non-guitar instrumental part, you can shorten it so the song doesn't drag.  It's all about making your version feel like it's yours!
Break Down the Parts of the Song
The next thing that's helpful in creating an acoustic cover is picking out which parts of the song are most essential. One of my favorite covers is John Mayer's version of  "Free Fallin'." I love that he hints at the main riff of Tom Petty's version, but he makes it his own. If you want to play a song that doesn't originally have any guitar, you just need to pick out the main melody to replicate acoustically. 
To come up with your own version of the melody of the song, try noodling around and improvising until you find a sound you like. In the case that there is a main lick that goes through the whole song (so it's difficult to play the chords at the same time), you can just add the lick to the beginning to make the song instantly recognizable. 
You can also choose to simply play the chords of the song and omit the riff, which creates a cool DIY feel. This is especially popular with stripped-down folk and bedroom pop cover songs. 
Use Open Strings
With acoustic covers, as much as you can, try to play open strings with the lead lines because it sounds more full than single notes. To do this, it's important to choose a good open key or use a capo. 
If the lead lick that you're trying to play is single notes, you could try playing a variation of it by sliding up one string while playing open strings simultaneously, play a version of the lick using open chords, or use inversions. For example, in Arther Blue's cover of "Dancing Queen," he changes the original lick by finger-picking around the chords to make it sound fuller acoustically. 
Decide the Rhythm Pattern
After you have your chords and melodies picked out, the next step is to decide on how fast you want your song to be and what the rhythm will be. In most cases, acoustic covers tend to be slower, but that doesn't have to be the case. A lot of bands keep their acoustic versions upbeat, like The Band CAMINO in their song "Daphne Blue (Acoustic)." Take a listen to the lyrics to decide how the song makes you feel, and play around with how the mood changes when you play fast versus slow.
Add a Finishing Touch
You're almost there! Just put together the different parts of the song, and you're ready to start playing your own original cover song. Feel free to experiment with adding different instruments or use a looper for background parts. There are so many options for spicing up your cover, it's definitely worth trying a few things to see if you like how it sounds.
I hope these tips help you make your own acoustic cover of a song. The biggest thing to remember is that you can take it in any direction, and just have fun practicing guitar.
We'd love to hear what you make! Tag Orangewood (@OrangewoodGuitars) on Instagram or on TikTok with the #orangewoodguitars and you could be featured in our #OrangewoodFriends weekly spotlight! 
______
Haley is a guitar player, blogger, and guitar teacher based out of Nashville, TN. When she's not playing or writing, you can find her in line at her favorite breakfast taco shop, taking her dog hiking at the nearest waterfall, or binging Outer Banks with her hubby.