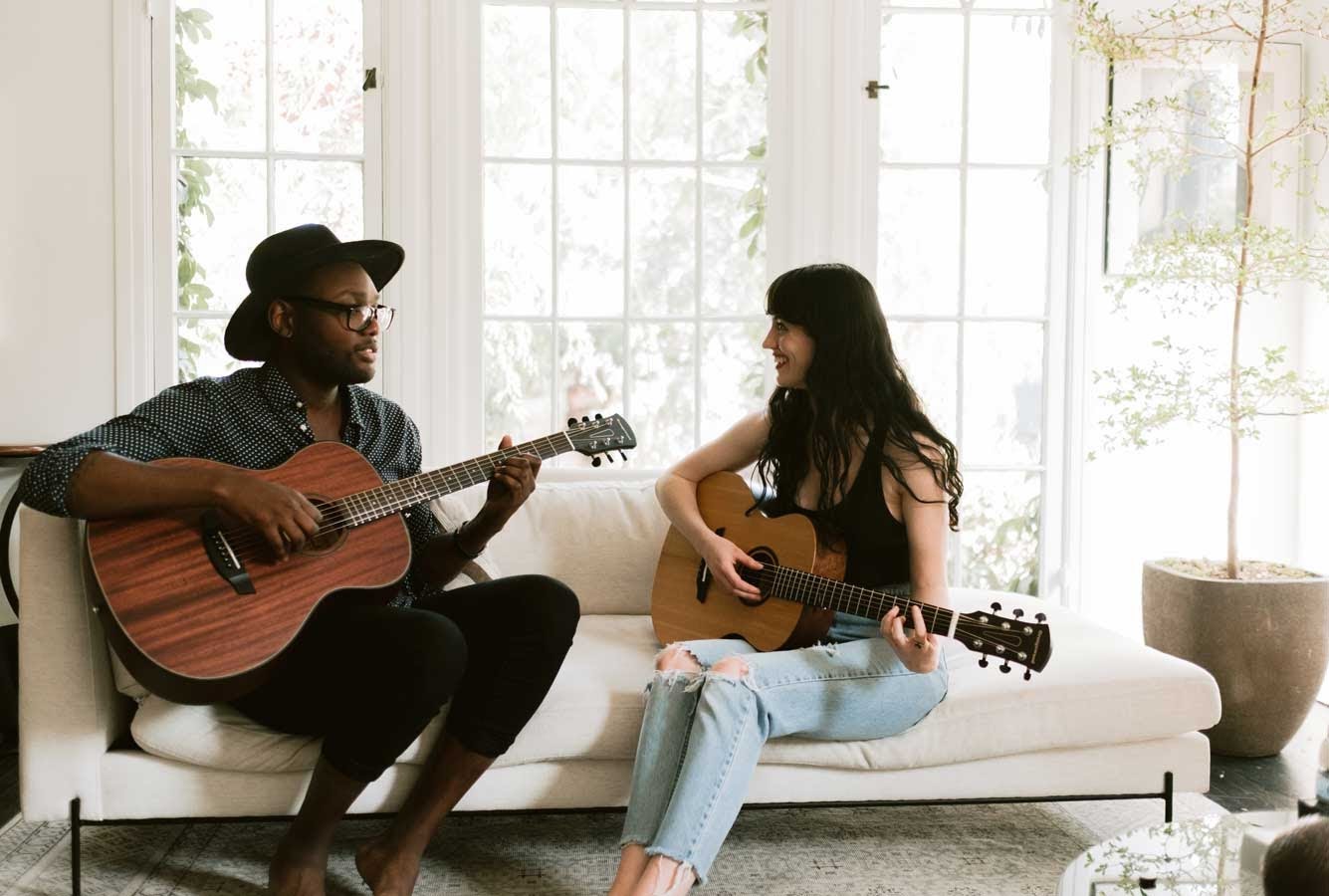 When you're starting to play guitar, the most nerve-racking stage is sharing your guitar playing with other people. You may feel like you're never "ready" to play with others, or that you're not good enough. That being said, sharing your music is a great way to stay motivated and make new friends. Any time I'm in a guitar slump, sharing my progress or having a jam session with friends helps me practice and re-find my joy in playing. 
You might be thinking, "Okay, that's good and all, but where do I find these other guitar humans?" Whether you've been spending more time than ever online this year or you live in an area with a small music scene, sometimes it can be hard to find a real-life music community. In this final installment of the Learning Guitar Series, I want to give you some of my top tips for building a guitar support system, no matter where you live!
 Where to Start
If you're looking to connect with other students while you learn guitar, a lot of lesson sites have online forums. My lessons at Scratch Track Guitar, for example, have comment sections after each lesson video. It's a fun way to meet other guitarists who're in the same place in their guitar journey as you.
Reddit is also great for finding online support. Some of the subreddits that I'm in, such as r/guitarpedals, r/guitarlessons, and r/logicproXusers, have sparked new ideas and helped me figure out many guitar or gear-related issues. 
Both online lessons and Reddit communities probably won't be where you'll meet other musicians to jam with, but it's nice to have a community that can help you with common questions. Next, let's dive deeper into finding new people to jam and collaborate with.
 Finding a Guitar Community Online
For a more collaborative online community, I can't recommend the Daisie app enough. It was started by Maisie Williams (from Game of Thrones), and it's an app where you can connect and collaborate with other artists. They also hold Zoom workshops (I've taught a few with them, and they are a lot of fun!). It's a great way to find other musicians to jam and songwrite with. If you have a project that you need help finishing, or you want to bring in other instrumentalists to play on your song, Daisie is an amazing option. 
For recording projects, Sound Better is a great option for collabing with other musicians or audio engineers looking to do studio work. You can also create a musician account and get paid to play on other people's projects. This platform is not formatted as much as a social network, like Daisie, but it's a good option if you're looking to build a community of contract players and sound engineers. 
Most importantly, no matter your skill level, don't be nervous to share your guitar playing progress! Just posting Instagram (or TikTok) videos of you playing is a great way to share what you're learning and connect with others. To build a community on social media, don't be afraid to comment, message, and shout out to other players you love. Putting yourself out there can be scary, so I was hesitant to reach out to new people when I first started my Instagram account, but I wish I had sooner. 
Most guitarists you reach out to online are kind, as they're on Instagram because they want to connect with other musicians as well. Some accounts that amplify and support other musicians are @pickupmusic, @guitarsdaily, and @guitarsarebetter. You can also search for guitar-related hashtags to find musicians, like #OrangewoodFriends to find other guitarists using their Orangewoods.
Don't Forget Your Inner Circle 
Sometimes your music community might be closer than you think! You may believe that if you want to get better and do anything with your music, you need to play with people that are further along in their music journey than you. But that's definitely not the case. If you've heard the phrase "in high tide, all boats float," I think it applies to creating this sort of music community. 
Playing music and writing with people on your level of skill can bring everyone up! While making new connections is fun and helps if you want to explore new opportunities, sometimes asking friends and family to play music with you is the most rewarding. No matter the other musicians' level, just picking up your guitar and playing for a bit can help you improve and feel inspired. 
I hope that these tips make you more confident in building your music community. If you're a beginner, it's easy to feel like you're never "ready" to play with other people, but I'd encourage you to just go for it. Collaborating with other musicians will help you get better, give your practice more purpose, and be more fun!
______
 Haley is a guitar player, blogger, and guitar teacher based out of Nashville, TN. When she's not playing or writing, you can find her in line at her favorite breakfast taco shop, taking her dog hiking at the nearest waterfall, or binging Outer Banks with her hubby.