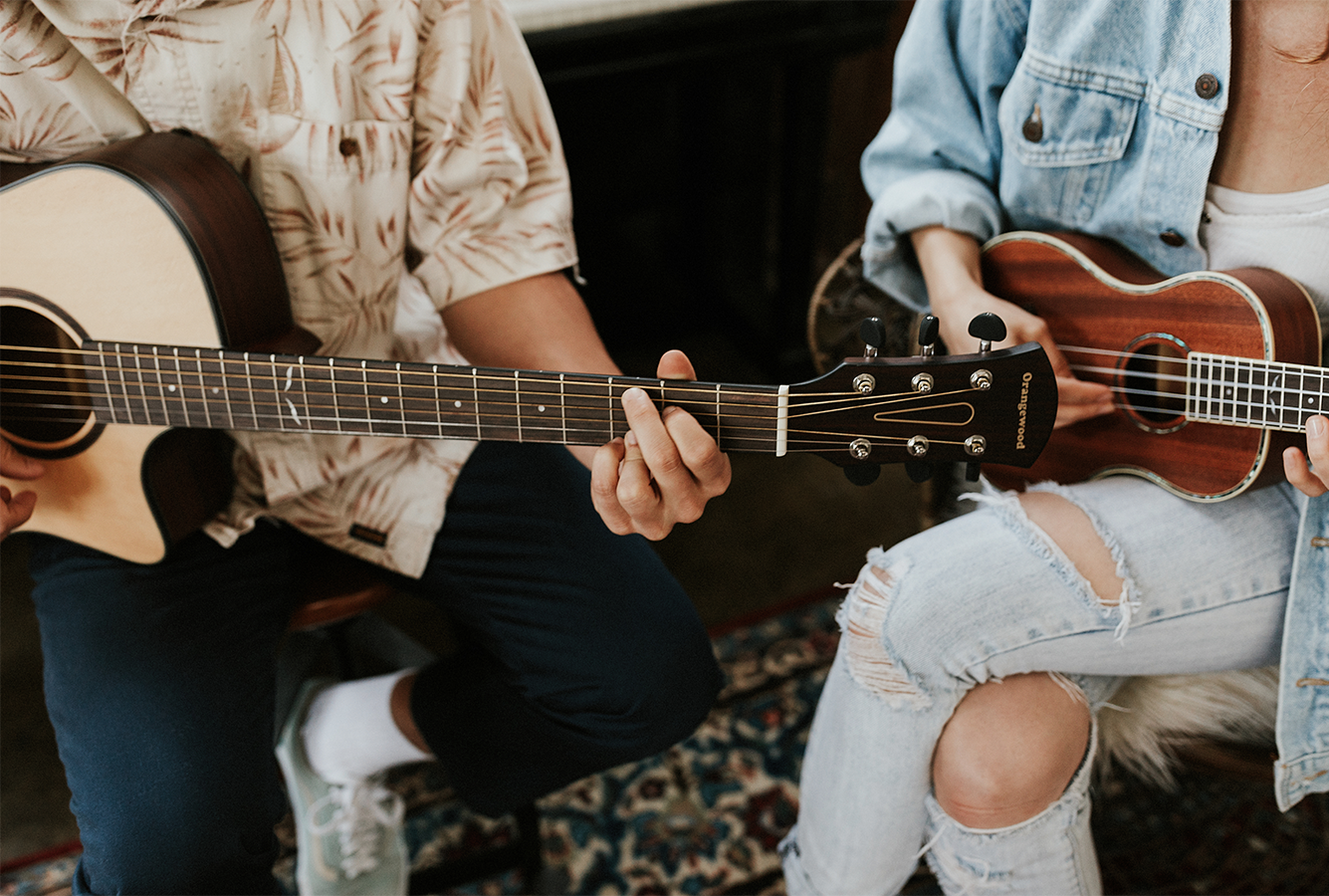 Since day one, Orangewood has been committed to giving back to the music education community. Back in 2018, we partnered with the Give A Note Foundation to develop The Giving Guitar Program as a platform for instrument donations. We're on a mission to support amazing teachers so they can build the best music programs for their students. 
In honor of Giving Tuesday, we're highlighting the heroes behind The Giving Guitar Program. Here are the teachers working every day to inspire creativity within their community.
Meet Sarah Minette, recipient of the Give A Note Foundation Music Innovator Award and participant within the Giving Guitar Program. Sarah has a Ph.D. from Arizona State University in Music Education, and she is a Music Educator at Minneapolis South High School and Adjunct Faculty at the University of St. Thomas, St. Paul. 
We interviewed Sarah to learn more about her musical upbringing, what her students play on their Orangewood ukuleles, and how to inspire high schoolers to see themselves as creative beings. 
Hey Sarah! To start, could you tell us a little about your amazing 16-year career in music education, and what originally inspired you to pursue music professionally? 
I was raised by two music teachers, so I loved music before I was born. I originally wanted to be a musician for Warner Brothers and do cartoons – I really loved Animaniacs. I realized that I would have to spend a lot of time in the practice room and when I was in undergrad, I found out how much I loved teaching music education. It was so much fun working with kids and learning their little quirks and how intricate they can be. 
I was teaching band when my job at South High essentially fell into my lap. I wasn't sure if I wanted to continue teaching band, and I got into a great conversation about a music program opportunity at the school. South High has a long tradition of an excellent choir, orchestra, and band, but the program demographics didn't match the changing demographics at the school. As someone specifically passionate about changing music accessibility at school, working on the music-education program sounded like an exciting, scary, and liberating opportunity for me. 
I decided to start the program teaching guitar which was hard at first since I was teaching the class the same way I used to teach band.  Students would ask, 'Why do I have to learn this?'. They wanted to play and learn the music that they actually listen to. 
Since then you've developed an amazing, detailed music-education curriculum at South High. You've been recognized with winning the Music Education Innovator Award from Give a Note Foundation – congratulations! How has winning the award helped you shape a better classroom for your students? 
With the award, we were able to start a sound production class at South High and acquire new technology for that. The exposure also connected us to Orangewood and then receive ukulele donations. The class has been great for empowering students. Our transitions around guitar and ukulele have been easy, especially with the portability of the ukulele. Using ukuleles helps present another path for students. The shape is easier and there are fewer strings. It helps with the understanding of the strumming and patterns. 
Orangewood was so excited to support you through our Giving Guitar Program and provide ukuleles for your students. What have your students been learning? 
We use the ukulele as an additional tool for music-making. We go more into depth about the history of ukuleles, and we use them to learn about string instruments from around the world. There's a "guitar-like" instrument worldwide, it exists almost everywhere, so the ukulele helps us explore all those types of worldly music. 
Getting students to stick to playing an instrument, and not giving up after the first year, can be a challenge. How do you encourage and inspire students to turn music into a life-long passion?
I encourage students to see all the different ways that they can use music. You can create music on the computer, go to a concert, support local artists, write songs and poetry, play in a band, participate in musicals, or join the choir. My ultimate goal for my students is for them to walk out of the classroom and see themselves as a musical and creative being.
When we get to adulthood, it's easy to say "I'm not musical" – maybe because a rubric once told us that. This is not how I teach. I encourage students to take risks and learn about different music and cultures. Not every student needs to become a professional musician. Sometimes music-education only services those that will give back to our music-ed community, but there's so much more to it. 
What are some of your students' favorite songs and genres to play on their ukuleles?
All students, it seems like, listen to what their parents would listen to. There's lots of hip hop, and sometimes there's obscure stuff, like a student in sound production who wrote an industrial goth hip-hop song. Eighties music is popular right now, as well as folk. The diversity of the students creates a diverse range of music. 
Lastly, tell us about who you are listening to right now! What songs or albums have inspired you? 
I go all over the place! I've started going through my dad's record collection with lots of old jazz from the fifties and sixties. There's Lizzo, obviously. As well as folksy music like James Taylor. I was brought up on Beethoven and Louis Armstrong. I'm also inspired by my own students and have learned a lot about music from them.  
I'll say, one piece that was very transformative for me that is off the beaten path is "Salvation is Created" by Chesnokov. It's a choral piece that I was introduced to as a band arrangement, but I much prefer the choral version. It's very grounded and earthy. I heard it, and played it, for the first time in middle school and wow, it was the first time that I felt an emotional connection to a piece. Whenever I hear it, I have to stop what I am doing and just absorb the sounds. 
______
Listen to South High on Bandcamp 
Thanks again to Sarah, and all of our Giving Guitar Program teachers, for the amazing work that they do for their community. At Orangewood, we believe music is a necessary tool for a student's future. This Giving Tuesday, we ask for you to help share the gift of music to a new generation. 
 
Support the Give A Note Foundation