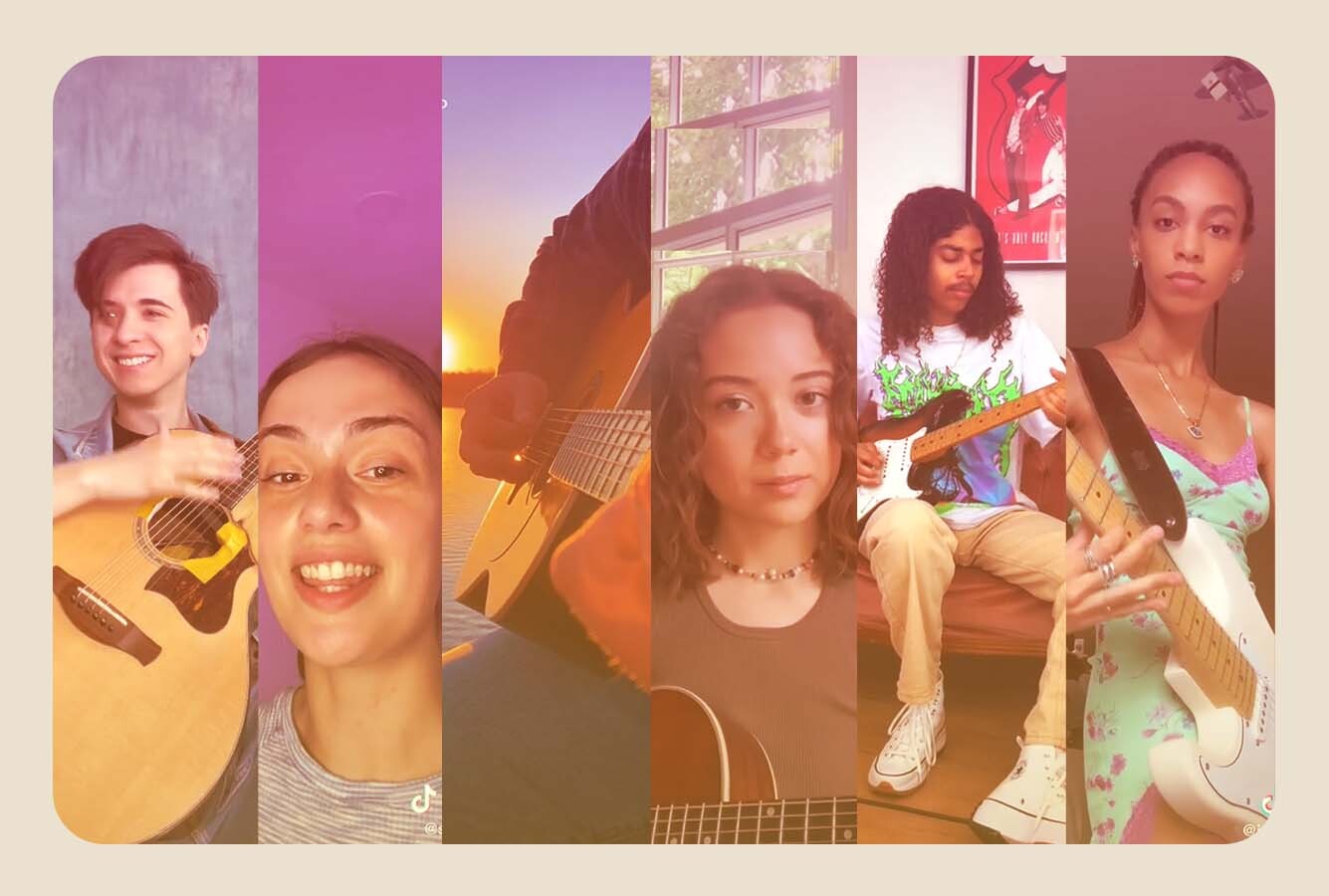 Launched just a few years ago, TikTok is one of the fastest-growing social media networks around. The app is officially a household name in the music industry with TikTokers carving out space for every instrument, genre, and playing style.
Here at Orangewood, you could say our team is pretty addicted to TikTok. When we aren't on GuitarTok creating our own videos, we're looking at MusicTok for guitarist inspiration. To get you started, we've compiled a guide to some of our favorite TikTok musicians — and why you absolutely need to be following them. Beware: highly addictive content incoming!
Laufey
Blending classical, jazz, and folk, Laufey — a recent Berklee College of Music graduate — is sure to inspire your guitar playing with her dreamy, nostalgic sound.
PickupGuitar
Do you have the tabs for that? Fear not! PickupGuitar (part of the Pickup Music community) is your go to guide for all things guitar lessons and theory. You might even see some familiar Orangewood Friends featured on the channel (hi, Ruben Wan). 
Marcin Music
A percussive fingerstyle guitarist, Marcin is a hypnotizing musician that will motivate you to try something new in your own guitar practice.
Bassrilia 
With a "Top 10 Easy Riffs to Learn on Guitar" Series, Malia (known as Bassrilia) is a great resource for easy-to-follow song tutorials. Whether it's The Strokes, Mac DeMarco, or Pixies, Malia's song selections are top notch.
SongPsych
Ever wonder what makes your favorite song so good? Tune in to SongPsych, hosted by musician Dev Lemons, for the psychology lesson behind music theory.
Steff Stover
If there's a trend, Steff Stover has made the guitar version. From POVs to tabs, from skits to riffs, Steff does it all with style. If you're looking to mix in a good laugh with your daily guitar motivation, you've found your guy.
Acoustic Studio
What beats strumming the classics on a lake at golden hour? Nothing. Acoustic Studio truly brings good vibes only. If you've ever wondered which acoustic song you should learn next — and where you'd most like to play it — look no further.
Tucker McKee
Spice up your chord game with Tucker McKee. Tucker's always got a few tricks up his sleeve, and he's sharing those secrets with you over on his fun, yet educational TikTok page.
Nina Lü
Ever wonder how good you can get at guitar in just 6 months? Let Nina Lü be your inspiration. 
Carson Elliott
Carson Elliot is single-handedly making the talkbox cool again. From original tunes to TikTok's chart-sweeping hits, Carson will find a way to make it sound extra smooth with his vocalized magic.
Orangewood
Lastly, don't forget to follow the Orangewood TikTok to stay up to date on all things guitar culture.