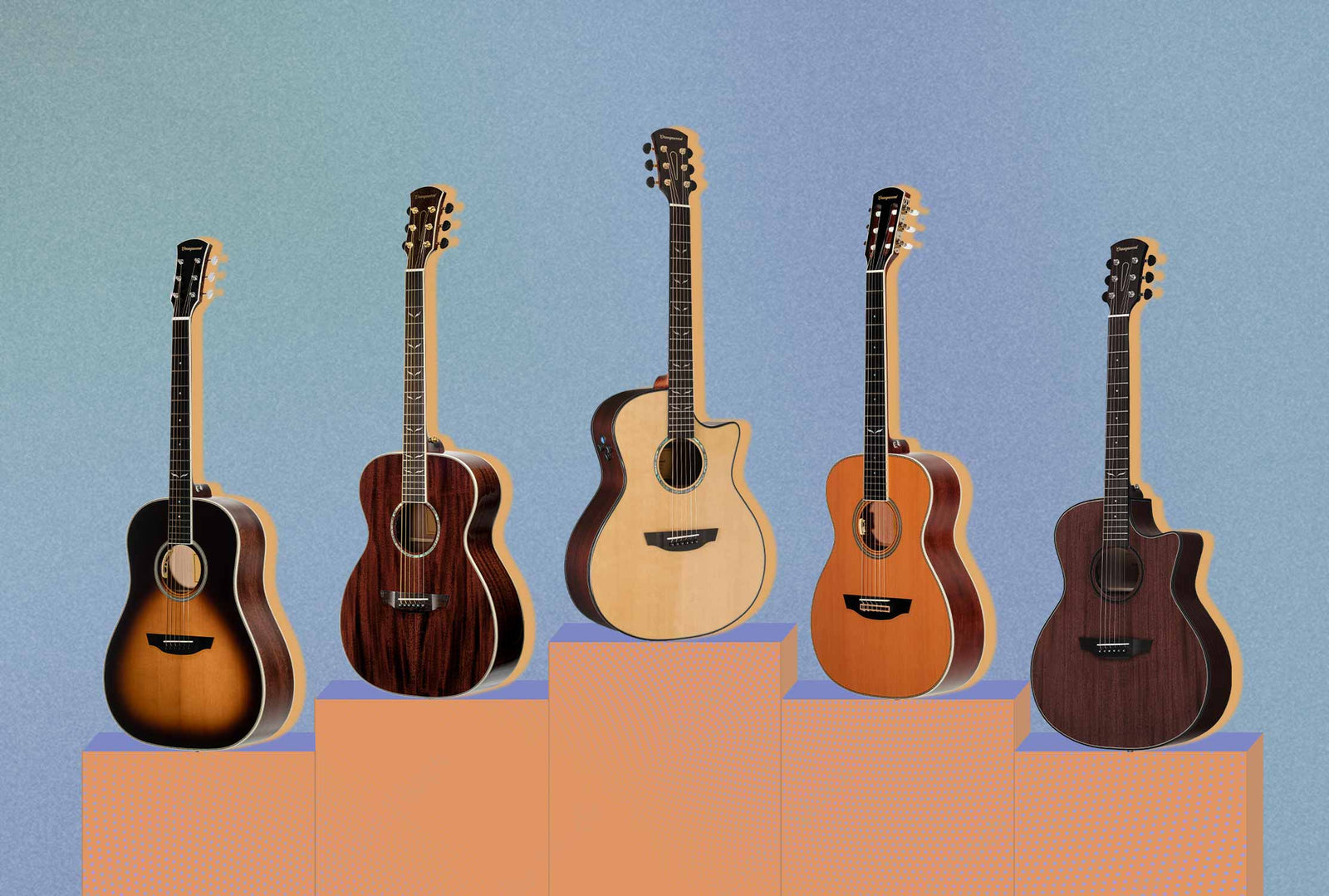 Do you love the timeless tones of an acoustic guitar but wish that they were better equipped for live performance and recording? Meet the acoustic-electric guitar. These versatile models are the perfect solution for combining a natural acoustic sound with electronic capabilities. 
In this article, we'll explore different acoustic-electric options available in 2023. No matter whether you're a novice hitting your first open mic or a professional musician looking for a recording companion, Orangewood offers a variety of acoustic-electric guitars to fit any playing style (and any budget). 
So, What's an Acoustic-Electric Guitar 
Exactly
?
An acoustic-electric model features the same properties of an acoustic guitar, but also includes a built-in pickup system that allows the guitar's sound to be amplified. To activate the pickup, the guitar can be plugged into an amplifier, PA system, or audio interface. When you want to play acoustically, simply turn off the pickup by unplugging from your selected sound system. Voilà!
The pickup system typically includes a microphone, piezoelectric ("piezo"), or magnetic pickup that's mounted inside the guitar's body. A preamp will help boost the pickup's signal and provide volume and tone controls such as bass and treble. There are many pickup manufacturers on the market, but we recommend Fishman (equipped on Orangewood's solid top models) or LR Baggs (equipped on our all-solid wood models) for professional capabilities. You can learn more about the technical details between these brands in our pickup system breakdown. 
Acoustic-electric guitars are a must-have for musicians who play live and need a versatile instrument to produce both acoustic and electric sounds. They also make a great tool for recording, as acoustic-electric guitars can capture a wide range of tones and texture. You even have the opportunity to add on acoustic guitar pedals to sonically explore and take your sound to another dimension. 
When choosing an acoustic-electric guitar, you should first consider what type of acoustic guitar works for your playing style. Explore what you need most from a guitar, whether that be the fullness of a dreadnought, the versatility of a grand auditorium cutaway, or the comfortability of a grand concert. Whatever you choose will be amplified by the pickup, so it's important to make sure you're satisfied with the sound (and look) of your guitar before choosing the electronic configurations. 
Best Affordable Acoustic-Electric Guitars 
Morgan Mahogany Live
Available in a right- and left-handed option, Morgan Live is a classic grand auditorium cutaway guitar that's a favorite for its high fret access. A solid mahogany top with layered back and sides provide a warm, balanced tone that you'll be eager to dial into. Morgan Live is equipped with a Fishman Sonitone EQ pickup system which provides a straightforward, single undersaddle pickup with volume and tone controls. Simple to use but with a bright, articulate sound, Morgan Live is a great beginner acoustic-electric guitar. 
Mason Live
Orangewood's affordable and reliable Mason Live is an eye-catching model that's sure to command the stage. With a solid Sitka spruce top, gold hardware, and an abalone rosette, the Mason Live screams vibrancy in both looks and sound. This model rocks a Fishman Flex Plus-T EQ, which is an upgraded version of the Fishman Sonitone pickup, featuring a built-in tuner and volume, treble, and bass controls. With Mason Live, you'll be able to personalize your tone to be as unique as you are. 
Brooklyn Mahogany Live
If you love the mellowness of mahogany, but appreciate the glamor of the Melrose Collection, then Brooklyn Live is the perfect fit for you. This acoustic-electric beauty is equipped with a custom-voiced LR Baggs Element Bronze VTC pickup, chosen for its unrivaled dynamic tonal range. Orangewood worked closely with the award-winning LR Baggs team to engineer the pickup to custom-fit Brooklyn Live, which includes a lightweight undersaddle piezo and tone control. With a transparent acoustic sound, this model is unlike any other on the market. 
Professional Acoustic-Electric Guitar Upgrades
Dolores Live
If you're serious about playing live then look no further than this acoustic-electric guitar. Orangewood's first slope shoulder model, Dolores Live is our go-to acoustic for balanced projection and excellent resonance. You'll get the fullness of a dreadnought with the comfortability of a narrower body, so you can play for hours on end without sacrificing any tone. Plus, its all-solid construction means you're getting the best from your tonewood. 
Dolores Live is equipped with the award-winning LR Baggs Anthem, an all-in-one pickup system that combines an onboard microphone and undersaddle piezo to create a natural, studio-quality sound with noise-canceling technology. All in all, the Anthem is a great choice for a balanced, feedback-free experience with lots of room for customization. 
Ava Nylon Cedar Live
Many guitarists may associate nylon-guitars with a delicate lushness, but that doesn't mean they can't turn it up. The Ava Nylon Cedar Live is a great choice for fingerstyle guitarists looking to accentuate their natural sound when jamming with a band, playing on stage, or recording in the studio. Built with a solid cedar top with solid mahogany back and sides, Ava Nylon Cedar Live produces a warm, full tone that will strike a chord with classical and contemporary players alike. 
Ava Nylon Cedar Live is equipped with an LR Baggs Anthem SL, which is a modified version of the Anthem pickup specially designed for nylon string guitars. Perfect for clear and clean notes, the SL soundhole microphone and undersaddle are great for classical and nylon-string guitars. 
And if you love the look of Ava Nylon Cedar Live, but prefer a traditional acoustic guitar sound, we also offer a steel-string version of Ava with a solid Sitka spruce or mahogany top option. 
3, 2, 1… Going Live
You may have noticed that all of Orangewood's acoustic-electric guitars feature "Live" in the product name. This label helps differentiate our standard acoustic models from the pickup-equipped version. When exploring our website, you'll find that we typically offer both an acoustic and a "Live" acoustic-electric option for the same model. To learn more, you can shop all of Orangewood's Live models here. Just pick one out, plug it in, and tune everything else out.